Salvors Refloat Grounded Freighter Off Scotland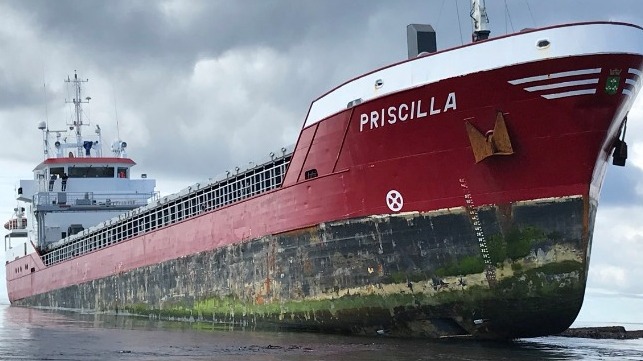 On Wednesday, a joint salvage team refloated the freighter Priscilla, one week after she went aground near Duncansby Head, a rocky point at the far northern tip of Scotland.
At 0330 hours on July 18, the UK Coastguard received a report that the Priscilla had gone aground on the Pentland Skerries, a series of rocky islands five nm to the northeast of Duncansby Head. An RNLI lifeboat team and two tugs responded to the scene, but their initial attempt to refloat the ship was unsuccessful. The Priscilla remained hard aground with the crew safely on board while the owner and the authorities made plans for a larger-scale salvage effort.
Late last week, the ship's owner contracted with three companies - Ardent, Multraship and Wagenborg - to spearhead a refloat attempt. The government's incident coordinator, Hugh Shaw, said that the area is well known for strong tides, and suggested that it was important not to delay in proceeding with a refloat.
On Tuesday, salvors completed an effort to remove 28 tonnes of marine gas oil from the Priscilla's tanks. 15 tonnes were left aboard for the vessel's own use, along with four tonnes of solidified HFO and two tonnes of lubricating oil. The team also lightered off 1,350 tonnes of her cargo of fertilizer onto a barge, which transferred it to sheltered water for transloading onto another vessel. To carry out this plan of action, the team deployed eight vessels to the scene - the Multratug 20, Multrasalvor 3, Multrasalvor 4, Wagenborg Barge 14, freighter Alana Evita, Forth Guardsman, Forth Trojan and Sprucelight.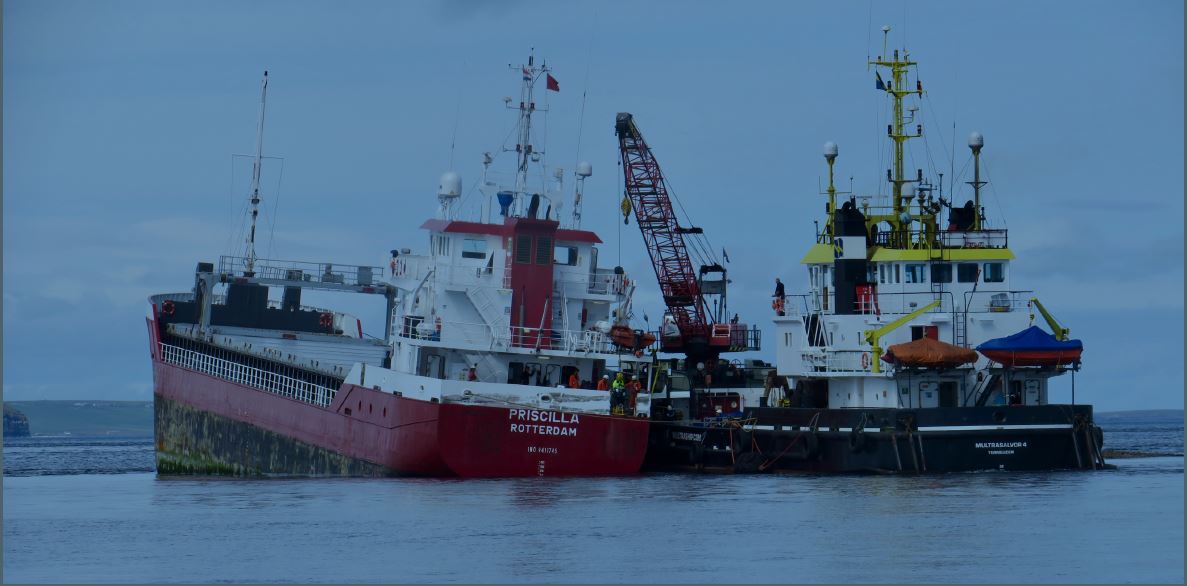 UK MCA
With lightening and de-fueling complete, the salvors scheduled a refloat attempt for a high tide at 2200 hours local time on July 25. The Priscilla came off the rocks at 2100 hours, and an initial assessment showed that she could be safely towed to a sheltered anchorage at Scapa Flow in the Orkney Isles. She will arrive tomorrow morning and will undergo a full dive inspection.