Chinese Company Picked to Salvage Sewol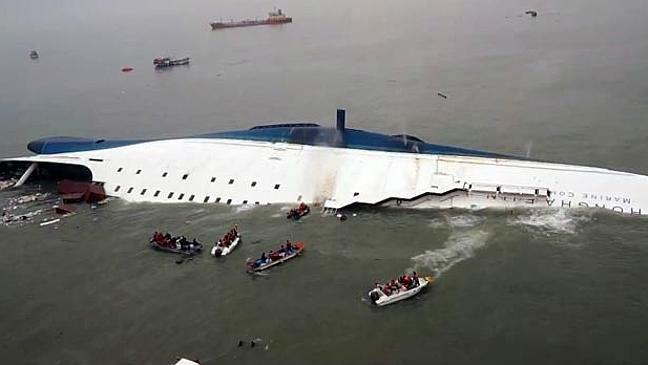 The South Korean government has hired Shanghai Salvage Co., a Chinese state-run consortium, to salvage the Sewol ferry. The company has a signed a KRW 85.1 billion ($73 million) agreement with South Korea to raise the ferry.
The 6,825 ton ferry sank off the South Korea's southern coast in April 2014, killing about 300 people, mostly school children.
Shanghai Salvage plans to raise the Sewol during the next year and projects the salvage operation will be completed by July 2016. The company will use two 10,000 ton cranes and about 200 workers, including 100 divers in the salvage of the ferry.
South Korea's southern coast is known for its strong currents and winds, which could make salvaging the Sewol a more dangerous undertaking than most. Two divers died searching for survivors last year.
South Korea's original plan was drilling a dozen holes into the side of the ferry and using naval cranes to lift the vessel from the seafloor. Shanghai Salvage offered to raise the ferry with a frame built with steel beams instead as they questioned the feasibility of relying on cables attached to a weakened ship to complete the task.
The agreement between Shanghai Salvage and South Korea is payable in three phases. The first payment will be made after the completion of loss prevention and oil recovery procedures. The second will be paid after the ferry is lifted and docked, and the final payment will be made after the ferry is brought ashore for demolition.
The sinking of the ferry resulted widespread public and political reaction within South Korea. Many criticize the actions of the captain and most of the crew of the ferry. More criticize the ferry operator and the regulators who oversaw its operations. Additional criticism has been directed at the South Korean government and media for its disaster response and attempts to downplay government culpability.
On May 15, 2014, the captain and three crew members were charged with murder, while the other 11 members of the crew were indicted for abandoning the ship. An arrest warrant was also issued for Yoo Byung-eun, the chairman of Chonghaejin Marine, which operated Sewol. A nationwide hunt to find him ensued, and his body was found on June 12.
Correction: Many outlets – including The Maritime Executive – have incorrectly described Chonghaejin's chairman, Yoo Byung-eun, as the Sewol's owner. Yoo did not have any ownership interest in Chonghaejin: two of Yoo's sons, Yoo Dae-kyun and Yoo Hyuck-ki, controlled the largest stake in the firm through a series of holding companies. Prosecutors alleged that Yoo Byung-eun retained de facto control of the company, but not formal ownership. The Maritime Executive has corrected the coverage above to reflect this fact.