S. Korea Seizes Chinese Tanker for Sanctions-Busting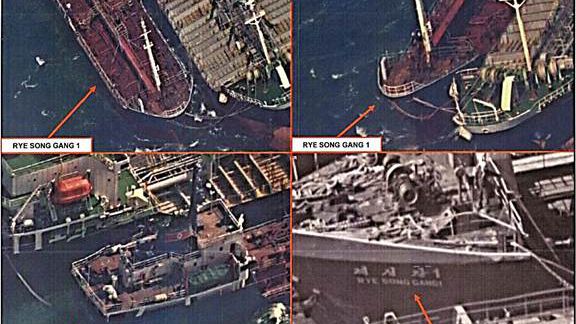 On Friday, South Korean authorities announced that they have seized the product tanker Lighthouse Winmore for allegedly violating UN prohibitions on ship-to-ship transfers with North Korean vessels.
The Chinese-owned Winmore – allegedly operating under charter to Taiwan-based Billions Bunker Group – loaded 14,000 tons of petroleum product at the South Korean port of Yeosu on October 11. On October 15, she got under way for Taiwan. However, Korean officials assert that she made four high-seas transfers to other vessels during her voyage, including a 600-ton transfer to the North Korean ship Sam Jong 2 on October 19.
South Korean customs officials boarded the Winmore and questioned her crew upon the vessel's return to Yeosu on November 24. They formally seized the Winmore in late December after the Security Council passed a new resolution requiring the detention of vessels involved in North Korean sanctions violations.
Most of the Winmore's 25 crewmembers are Chinese nationals, and they will be allowed to return home after the investigation is complete. In a Twitter message, U.S. president Donald Trump accused China of "allowing oil to go into North Korea" and asserted that Beijing had been "caught RED HANDED." In a statement, Chinese foreign ministry spokeswoman Hua Chunying denied the charge, saying that China will "never allow Chinese citizens and enterprises to engage in activities that violate Security Council resolutions."
The U.S. Treasury recently released surveillance imagery of an apparent North Korean ship-to-ship transfer on the high seas, a practice that appears intended to circumvent UN Security Council prohibitions on petroleum sales to Pyongyang. The Treasury imagery appears to show the North Korean product tanker Rye Song Gang 1 rafted up alongside an unnamed product tanker. The UN has been steadily strengthening economic sanctions on the North over its nuclear and ballistic missile weapons programs, and in September it added a prohibition on ship-to-ship oil transfers.
Seoul-based paper Chosun Ilbo reports that the South Korean government believes that Chinese vessels have transferred petroleum to North Korean ships at least 30 times since October. "This is one of the main ways in which North Korea uses an illegal network to circumvent UN Security Council sanctions," a South Korean Foreign Ministry spokesman said.
Hua Chunying said that Chinese officials had investigated one report that a Chinese ship had transferred petroleum to a North Korean vessel on October 19. However, she said, the report was found to be erroneous. She added that she had no information about the Winmore.
NK News reports that earlier this month, Chinese diplomats at the UN resisted American efforts to blacklist six ships over alleged sanctions violations, including high seas petroleum transfers. "Based on existing evidence, we agree to designate the 4 vessels, namely, BILLIONS NO. 18, UL JI BONG 6, RUNG RA 2 and RYE SONG GANG 1. The rest [sic] 6 vessels are requested to be deleted from the list," read the Chinese delegation's response to the proposal. The vessels that China sought to keep off the sanctions list included the Winmore and all other Chinese-owned ships in the original American proposal, plus the Sam Jong 2, the vessel that allegedly met the Winmore for a high-seas transfer.