Russian State Nuclear Firm Rosatom Now Controls Boxship Operator FESCO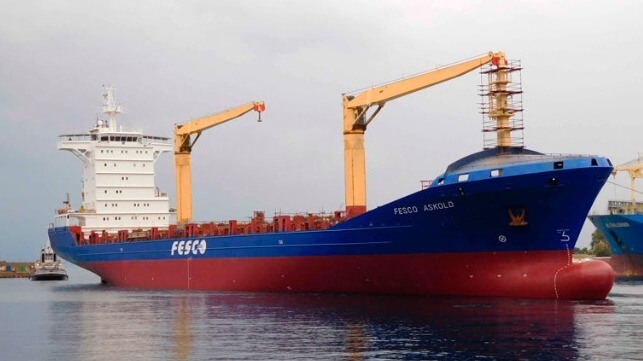 Russia's state nuclear power company, Rosatom, is about to become an even bigger shipowner. It already controls the nation's nuclear icebreakers, which make up the largest icebreaking fleet on earth, as well as the development planning for Russia's Northern Sea Route. Going forward, Rosatom will also own Russian container line FESCO, the country's leading boxship operator.
FESCO was taken over by the Russian state in January after its owner, Ziyavudin Magomedov, was jailed on corruption charges. Magomedov was the owner of the industrial conglomerate Summa, which held a variety of other logistics and telecom businesses, including a large stake in FESCO.
In 2018, Russian prosecutors accused him of embezzling about $180 million in state funds from government contracts and funneling the money into offshore accounts. Magomedov and his brother were found guilty and sentenced to nearly 20 years, and they were held at the well-known Lefortovo high security prison in Moscow. Magomedov denies the charges and is appealing.
In January, the Kremlin moved to nationalize FESCO, and it has now transferred 93 percent of the government stake to Rosatom. The decision hands Rosatom control of a fleet of 28 ships, including 19 boxships, as well as a network of seaports and rail operations. It also now controls VSCP, the operator of the strategic port of Vladivostok on Russia's Pacific seaboard.
Last month, Magomedov's lawyers filed a record-setting $14 billion suit in the UK against state-controlled Rosatom and Transneft, along with an American private equity firm, alleging that they had conspired to breach a contract, deny Magomedov his right to buy a controlling stake in FESCO, and transfer it to Rosatom instead. In his suit, Magomedov alleged that some of the parties had discussed plans to make Rosatom the operator of FESCO-owned VSCP, and had informed port workers in advance that this would eventually happen. In a statement, his lawyers characterized the alleged plan as "a concerted raid on Mr Magomedov's holdings in FESCO that featured intimidation by state officials, bribery and the misconduct of some FESCO directors."
FESCO is sanctioned by the U.S. and UK governments in connection with the ongoing invasion of Ukraine.