Russian Ferry Rescues Chinese Bulker Crew from Ice Flows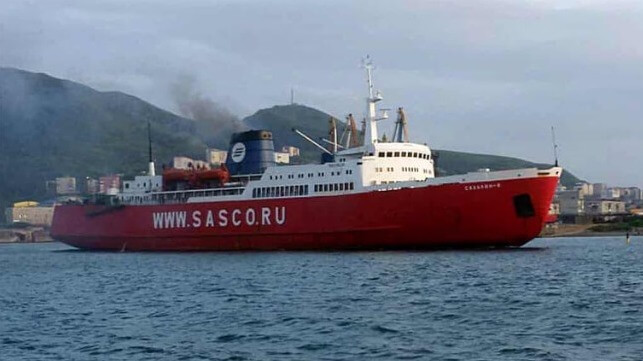 A Russian icebreaker ferry went to the aid of a Chinese crew after they were forced to abandon their damaged bulker. Russian emergency services are reporting despite temperatures hovering around zero Fahrenheit the crew was safely rescued and brought to the nearby port of Vanino.
The bulker Yong Xing 56 (33600 dwt) was in the Tatar Strait reportedly drifting with other vessels in the ice flows waiting to proceed to the coal port. The vessel was traveling in ballast waiting to load an export load of coal sitting off the port since February 19.
At 20:30 on February 23, the bulker with 21 crewmembers aboard reportedly issued a distress call requesting assistance telling the maritime services that it has suffered hull damage and was taking on water near the number one hold.
The ferry Sakhalin-8 (1,600 gross tons) operated by SASCO was sent to provide assistance. When it reached the area about an hour after the call for assistance, they reported that the crew of the bulker had abandoned ship and was on the ice with two rafts seen in the water. The ferry was able to take the Chinese crewmembers aboard with its pilot ladder.
Russian officials are reporting that the crew was "frozen, tired, and stressed," when they were placed in the passenger cabins aboard the ferry. They were brought to the port of Vanino approximately 42 miles away where they were placed in a hotel.
The director general of the Sakhalin Shipping Company (SASCO) told the local media that the crew of the ferry would be rewarded for their professionalism. He commended them for their prompt actions during the rescue operation.
The rescue vessel Otto Schmidt was being sent to secure the bulker. Last reports said that the bulker was down by the bow but remained stable and in no immediate danger. There was no release of oil.