Russian Captain Fined for Grounding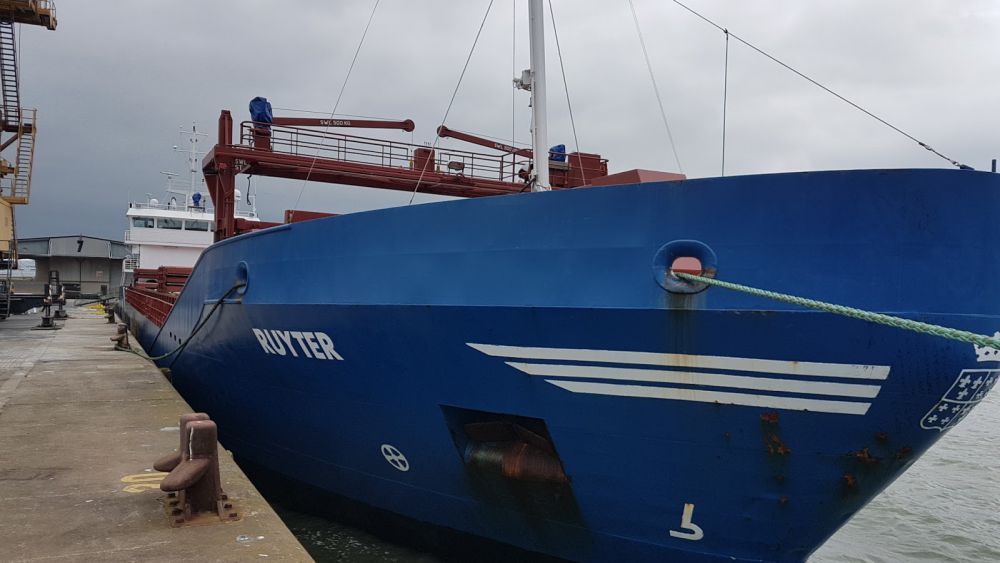 This week, in a court in Armagh, Northern Ireland, Capt. Aleksandr Iakovtsov pled guilty to charges of failing to safely navigate his ship and causing serious damage to his vessel.
Capt. Iakovtsov's ship, the Dutch-flagged freighter Ruyter, was en route to Warrenpoint, Northern Ireland on October 10 when she went aground on Rathlin Island, near the northern entrance to the Irish Sea. Her crew reported the grounding to the UK Coastguard's Belfast station, and they managed to refloat the Ruyter themselves shortly thereafter. They reported no damage and continued on their voyage, but when the Ruyter arrived at Warrenpoint the next day, the pilot noticed that she was trimmed by the bow and was listing. The harbourmaster found that there was flooding in the bowthruster compartment, and an underwater inspection revealed extensive damage to the bow, with additional breaches in the #1 double bottom tank and the forepeak. The UK Maritime and Coastguard Agency detained the vessel and her cargo was offloaded.
"I am not surprised at the extent of the damage. The Captain is very lucky that the outcome was not more serious," said Captain Bill Bennett, technical manager for the UK Maritime and Coastguard Agency, Northern Ireland. "I am very concerned that he failed to have a lookout on watch with him and that the off-watch alarm and ECDIS alarms should have been switched on – this put his crew and his vessel at risk. Thankfully there was no pollution from this incident."
Magistrate Paul Copeland sentenced Capt. Iakovtsov to a fine of $1,300 or 28 days in jail. "It should have been apparent to you as an experienced mariner that you were on a collision course as you left Islay towards Northern Ireland," Copeland said. "You chose to leave the bridge as the ship approached the coast of Ireland. It should have been apparent to you from the radar that you were getting close to the shore. The lights on Rathlin should also be apparent to you. You are fortunate the ship struck a shallow patch under the cliffs and that you were able to come off in a short time."
Capt. Iakovtsov was able to pay the fine, and he was released the same day. The MCA reports that he has returned to Russia.