Russia Increases State Subsidies for its Struggling Shipyards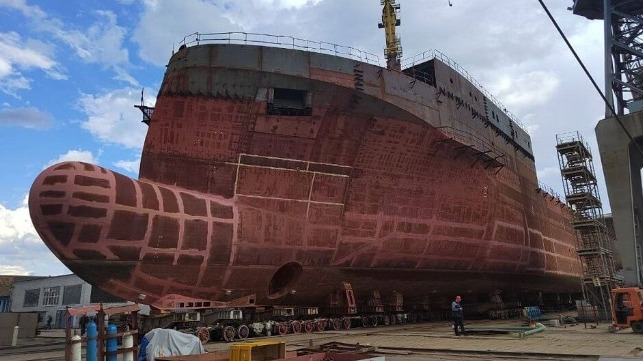 In the 2024 financial year, Russia is reportedly planning to ramp up subsidies to the Russian shipbuilders by over $68 million, providing additional support for an industry which has been hit hard by sanctions.
The Kremlin's draft budget suggests that financing for the subsidy program in 2024 will increase from $122 million to approximately $190 million. The funding will be maintained within this range in the following two years.
Russia says that the enhanced funding will go into subsidizing costs for Russian shipbuilders to ease production of ship components.
Further, there are plans to subsidize Azov Ship Repair Yard with an additioal $20 million. The yard is located in the Sea of Azov region, within reach for repair work for the Black Sea Fleet but safely out of range of Ukrainian missiles.
The upcoming financial cycle has also heavily focused on the development of the Northern Sea Route (NSR). A total of $417 million has been allocated for the construction of nuclear icebreakers and a multifunctional nuclear supply vessel. However, this represents a reduction of $40 million from the level of the current fiscal year's budget.
With Russia hoping to start year-round shipping through the NSR, it is keen to build a fleet of nuclear ice-breakers and ships. The Russian nuclear agency Rosatom, which is charged with the responsibility of overseeing shipping activities in the NSR, hopes to operate 13 icebreakers by 2030.
With the ongoing war in Ukraine, President Putin appears keen to revitalize shipbuilding in Russia. A month ago, Putin transferred the management of Russia's largest shipbuilder United Shipbuilding Corporation (USC), entrusting it to the state-owned VTB bank. USC has been struggling to get components to deliver on its backlog of orders, particularly the powertrain and technology systems that were historically sourced from European suppliers.