Russia Accelerates Plans for Year-Round NSR Navigation to Grow Volume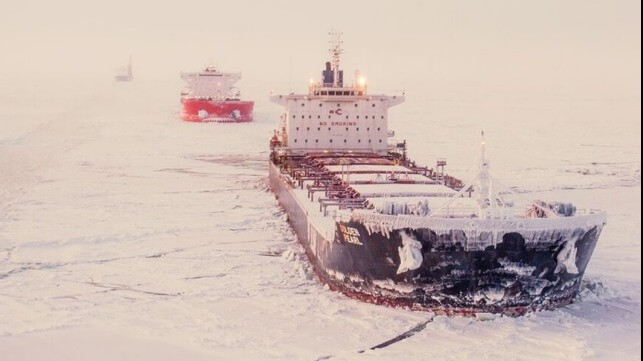 Russia continues to demonstrate its determination to transform the Northern Sea Route (NSR) into a competitive commercial shipping corridor with a focus on building ice-class supply vessels, building partnerships with "friendly countries," and ensuring year-round navigation. Rosatom Director General Alexei Likhachev told global participants at the St. Petersburg International Economic Forum that the NSR is fast emerging as a potential new trade route connecting Asia and Europe due to changing global trade landscape, which has been brought about by the invasion of Ukraine.
Moscow has significantly invested in building a high Arctic class fleet that is making the route efficient and safe for commercial shipping, a development that has opened up year-round navigation, particularly in the NSR western part where vessels are now able to navigate without icebreaker assistance in certain ice conditions.
Plans are also ongoing to open the eastern part to year-round navigation with the formation of the year-round icebreaking and transport system in the Kara Sea. Preparations are also at an advanced stage for Novatek, Russia's second-largest natural gas producer, to commence regular eastward year-round voyages beginning next year. Novatek, which has been shipping LNG to Asian countries, is set to substantially increase cargo volumes with the impending launch of the Arctic LNG 2 plant in the Arctic.
According to Likhachev, opening the NSR to year-round navigation will enable the Arctic route stretching 5,556 kilometers between the Barents Sea and the Bering Strait and which is the shortest passage between Europe and Asia, to become strategic and competitive in the global commercial shipping arena.
"The aim of global logistics has always been a balance of safety, sustainability, and efficiency. However certain events of recent years as well as of present days have been changing world logistics. Given such a situation, safety and sustainability are becoming obvious priorities. The NSR is becoming a unique new route, and we see, especially considering the current situation, a very great potential for cooperation with friendly countries in the development of transit cargo traffic, and moreover, we are already taking the relevant actions," said Likhachev.
Russia has significantly managed to increase cargo volumes through the NSR in recent years, with 34 million tonnes transported on the route in 2022 compared to just 7.5 million tonnes in 2016. The country is targeting to increase the volumes four-fold to at least 130 million tonnes by 2030.
Apart from investing in opening the NSR to yearlong navigation and building a new fleet of ice-class supply vessels to replace the current aging fleet, Russia is also determined to enter into partnerships with global shipping and logistics companies.
At the St. Petersburg forum, Rosatom signed an agreement with DP World to jointly develop Eurasian logistics and container shipping along the NSR targeting the Asia and European markets. The two companies contend that the partnership will not only add much-needed resilience to the global trade landscape but will also significantly reduce emissions by cutting the distance between Asia and Europe and using LNG-fuelled vessels.
The agreement is a step towards creating a viable route for container shipping through the NSR, supplementing the shipping routes around Africa or through the Suez Canal.
Sultan Ahmed Bin Sulayem, Group Chairman and CEO of DP World, noted that going by the blockage of the Suez Canal in 2021 that held up trade valued at $9 billion a day, dependence on a single trade artery exposes global trade to the vulnerability of shocks.
"The NSR could be transformative for both global trade and the environment. Not only would it cut maritime carbon emissions, but it offers a new option for customers who depend on a single trade artery," he said.
Rosatom was appointed as an operator of the NSR infrastructure in 2018 and since then it has been in charge of the route's navigation organization, infrastructure facilities construction, navigation and hydrographic support, as well as the navigation safety system in the harsh Arctic environment.