Royal Navy Escort Sparks Debate Over Capabilities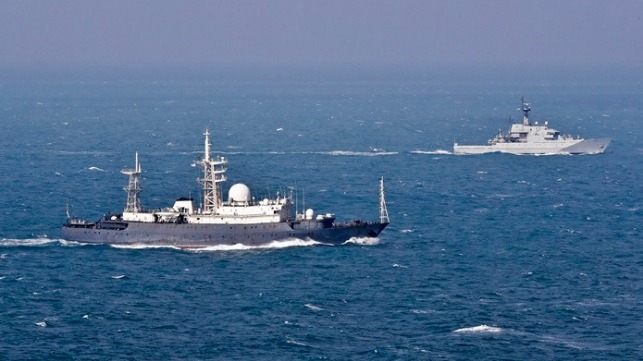 On February 20, the Royal Navy patrol boat HMS Mersey and her 34 crew were diverted from a fishery protection patrol to escort three Russian vessels as they transited the English Channel.
The Russian vessels - the surveillance ship Feodor Golovin, landing ship Alexander Ostrakovskiy and tanker Yelnya - had been supporting Russian operations in Syria and were returning to their home ports. The Mersey took over from the French Navy, which had monitored the group's progress through the Bay of Biscay. At the other end, Mersey handed off escort responsibilities to the Dutch Navy.
"Although her routine business is patrolling UK waters and helping to enforce fishery legislation, HMS Mersey was tasked to locate, meet and escort the ships through the English Channel," said Lieutenant Alexandra Karavla, the patrol ship's Executive Officer. "Ships like HMS Mersey are the eyes and ears of the Royal Navy around the UK – we are at sea for 320 days a year, so Mersey provides the Navy with a ship ready to respond at short notice like this."
In many prior instances, the Royal Navy has dispatched one of its frigates and destroyers to monitor Russian transits of the Channel. At the beginning of the year, the frigate HMS Westminster was sent to escort two Russian frigates and their support vessels as they returned to the Baltic after operations in the Middle East. But for the last two Russian transits, the Royal Navy has sent a lightly-armed vessel, feeding an ongoing debate over the adequacy of the service's capabilities. Though top officials assert that small vessels like the Mersey are appropriate for this tasking, the Royal Navy has argued in years past that they are not appropriate for escort missions.
HMS Mersey's crew weighed in on their official Twitter account. "This is routine business for us; being on patrol around UK waters means we are always at immediate notice to respond to tasking such as this," the Mersey's crew wrote.
HMS Mersey has spent the last 72 hours tracking a Russian spy ship task group as it sailed past the UK @HMS_Mersey https://t.co/rvBmWnHwYj pic.twitter.com/hK6GtyVd92

— Royal Navy (@RoyalNavy) February 22, 2018