Royal Navy Bomb Disposal Diver Awarded MBE
A Royal Navy diver, Petty Officer Diver Darren Carvell, 41, has been awarded an MBE (Member of the Most Excellent Order of the British Empire) in the Queen's New Year's Honours for outstanding bravery and commitment to bomb disposal operations.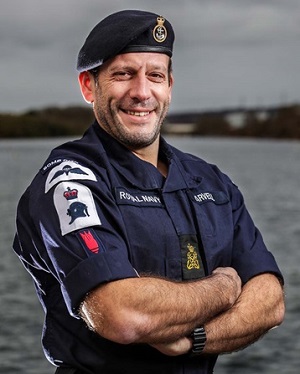 During his time as a clearance diver the father of two has been responsible for the safe disposal of over 150 explosive ordnance devices.
On July 12, 2016, Carvell led a six-man team to locate and free a Portuguese submarine that had become entangled in a trawler's net 35 nautical miles offshore. The submarine was rolling dangerously in heavy seas, and during the six-hour operation his exceptional drive and leadership ensured that the vessel was finally cut free and escorted back to safety.
In 2017, Carvell led a four-man team to achieve the safe disposal of two large WWII bombs less than 900 yards from Hinkley Point Nuclear Power Station and an improvised explosive device disposal task following an explosion in Camborne, Cornwall.
Also that year, Carvell was involved in dangerous diving operations after the fishing vessel FV Solstice capsized in heavy seas off the coast of Plymouth. One member of the three-man crew was missing. On arrival at the scene the dive team were presented with an upturned, unfamiliar vessel of unknown condition that was floundering in heavy seas, only minutes away from sinking. Carvell's rapid planning, leadership and courage enabled the deployment of a two-man dive team to conduct a search and rescue operation inside the hull of the capsized vessel. The crewman was not recovered alive, but his body was recovered just moments before the vessel sank.
Lieutenant Commander Sean Heaton, the Commanding Officer of the Southern Diving Group said: "Carvell has continually performed above and beyond his far-reaching responsibilities. He has constantly put the needs of the Royal Navy ahead of his own, working long hours in difficult conditions and sustaining the morale of his busy team.
"His unrivalled commitment, exceptional leadership and relentless motivation has inspired all who work with him. His outstanding dedication has resulted in a huge number of high profile successes for the Royal Navy."
A member of Southern Diving Unit 1 in Plymouth between August 2014 and May 2018, Carvell is now part of Fleet Diving Unit 1 on Horsea Island, supporting overseas bomb disposal operations.