[Watch] Royal IHC Launches Fifth Pipelaying Vessel for Sapura Navega??o Mar?tima
Royal IHC has successfully named and launched the pipelaying vessel, Sapura Rubi, in a ceremony at the company's shipyard in Krimpen aan den IJssel, The Netherlands. The naming of the fully integrated vessel was performed by Glaucia Maciel, Human Resource Manager of Sapura Navegação Marítima.
The Sapura Rubi is the fifth 550t pipelaying vessel that IHC is supplying to Sapura Navegação Marítima, a joint venture between SapuraKencana and Seadrill. All five vessels are being completely designed, engineered and built by IHC. Like its sister vessels, the Sapura Diamante, Sapura Topazio, Sapura Onix and Sapura Jade, the Sapura Rubi is destined for Brazilian waters to develop deep-sea oilfields of up to 2,500m on behalf of Petrobras.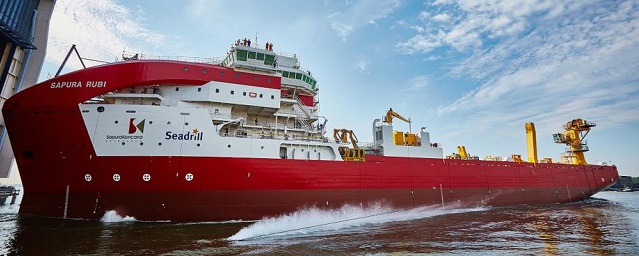 The vessel will be equipped with a pipelaying spread designed and built by IHC and two below-deck storage carousels, with capacities for 2,500t and 1,500t of product respectively. A vertical (tiltable) lay system with a 550t top tension capacity will be permanently installed for the deployment of a range of flexible products and the tower orientation allows for maximum deck space. A custom-designed IHC control system integrates each aspect of the pipelaying spread to ensure excellent levels of performance, safety and reliability.
Arjan Klijnsoon, IHC's Executive Director Marketing and Sales, says: "With these ships, Sapura Navegação Marítima has entrusted IHC with an impressive order. The entire project has been on – or ahead of – schedule, which proves us to be a reliable partner in complex activities.
"The operational vessels, the Sapura Diamante, Sapura Topazio and Sapura Onix, are all performing very well. With the launch of the final vessel, we have almost reached the end of a fantastic project. I am confident that the outfitting and delivery will be completed on schedule."