Rolls-Royce Sells Commercial Marine Business to Kongsberg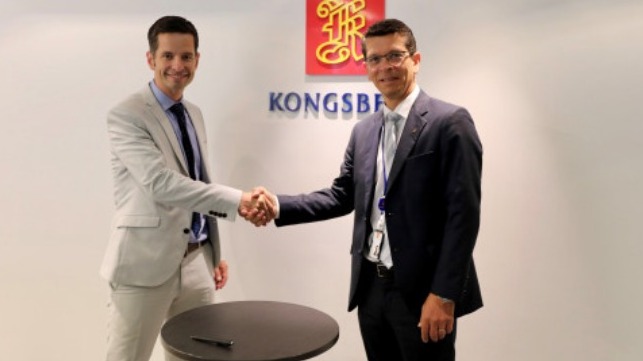 Rolls-Royce has signed an agreement to sell its commercial marine business, to Kongsberg, for an enterprise value of £500 million ($660 million) and net proceeds of around £350 million to £400 million.
The move follows a strategic review by Rolls-Royce of its commercial marine operations announced in January 2018. The sale includes propulsion, deck machinery, automation and control, a service network spanning more than 30 countries and ship design capability, which to date has seen around 1,000 ships of Rolls-Royce design delivered to offshore, cargo, passenger and fishing vessel customers worldwide. Rolls-Royce's Ship Intelligence activities, which have seen the rapid development of technologies to enable remote and autonomous operation of commercial vessels, are also included.
Kongsberg, headquartered in Kongsberg, Norway, is an international group delivering technology systems and solutions to clients within the oil and gas industry, merchant marine, defense and aerospace sectors. It is represented in more than 25 countries with approximately 7,000 employees and has a turnover of NOK 14.5 billion ($1.8 billion).
Kongsberg will, through a trading arrangement, continue to have access to products from Bergen Engines, which remains part of Rolls-Royce Power Systems. The Bergen engine range of both diesel and gas medium-speed engines is a key component that Kongsberg says will enable it to be a leader in the continued development of integrated ship systems. Kongsberg will also be an important partner and supplier to Rolls-Royce's defense business for the supply of commercial marine products used on naval vessels.
Rolls-Royce Power Systems will continue to supply MTU engines to a range of customers in the marine market including operators of commercial vessels and yachts. The naval gas turbine propulsion activities will continue to be a core part of Rolls-Royce Defence.
It's commercial marine business has approximately 3,600 employees, with the majority based in the Nordic region. In 2017, the commercial marine business generated revenue of £817 million with an operating loss of £70 million reflected in the group's financial results. After taking into account various central cost recharges included in this reported figure, the disposal is expected to have had around a £50 million positive profit impact based on 2017 pro forma figures.
The transaction has been approved by the boards of both Rolls-Royce and Kongsberg and is expected to close in Q1 2019, subject to clearance from the regulatory authorities.