Ro-Ro Cargo Ship for European Space Agency "Unfurls" its Sails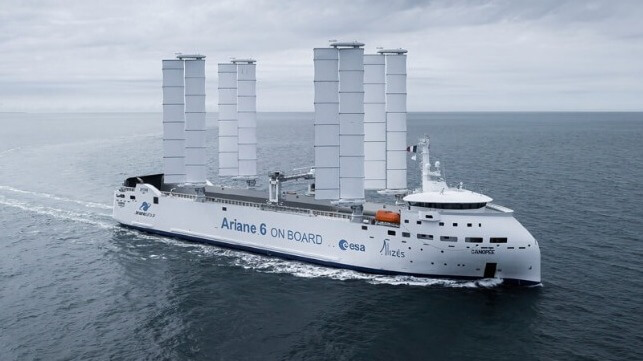 Canopée, which is being called the first hybrid industrial vessel equipped with collapsible wing sails, is ready to begin commercial service for the European Space Agency's Ariane program. The 5,500 dwt Ro-Ro was fitted with its unique sails last month and has completed sea trials as it prepares to start its commercial service with regular transatlantic crossings.
The project took six years to complete with the concept for the wind-assisted vessel to transport components for the European Space Agency program to the launch site in French Guiana. The ship was designed to meet the specifications of the ArianeGroup which is running the space program, and the challenges of the site in the port of Pariacabo in French Guiana. Canopée needs to be able to navigate the shallow waters and the narrow Kourou River while transporting its cargo.
The vessel was constructed by the Neptune Shipyard in Poland and completed in time for its first trials in December 2022. It departed on a test voyage from Bremen, Rotterdam, Le Harve, and Bordeaux to the South American launch site on December 27, 2022.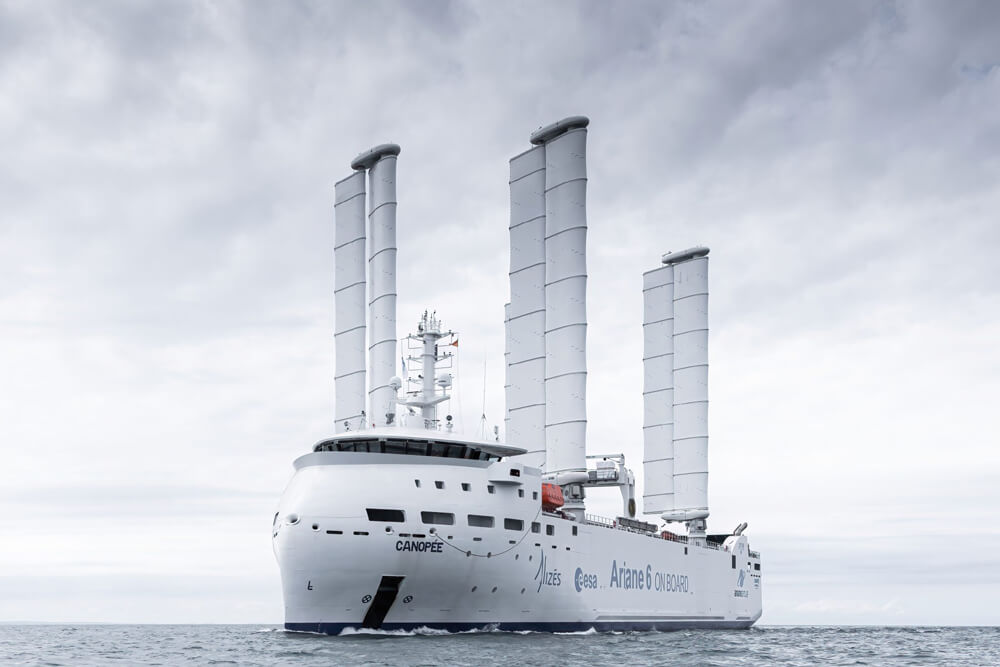 (TomVanOossanen photo courtesy of Zéphyr & Borée)
The fitting of the sails was completed in July and the vessel has been undergoing trials first at its dock and then at sea. Developed by AYRO, the sails are each just over 120 feet in height with a surface area of 363 square meters. The sails consist of two flaps, one forward and one aft. The design makes it possible to adjust the angle of incidence of the wings, which turn 360 degrees in relation to the wind while the rear flap can pivot around the secondary mast to create a camber in relation to the front flap. The sails are collapsible.
According to AYRO, the wings generate far more power than conventional sails or single-element wings. They expect the ship will sail at speeds of up to 16 knots to meet its commercial schedule. The proportion of wind power use will vary between 15 and 40 percent, depending on the required speed and wind conditions, which are expected to vary by season. The vessel is also fitted with two diesel engines that provide 3,840 kW. With the four wings, the ship aims to reduce fuel consumption by on average around 30 percent.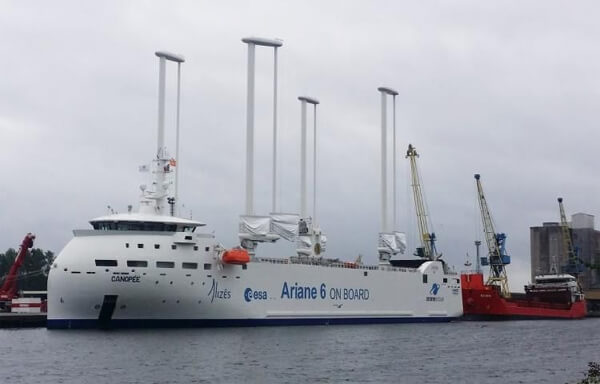 Gurit provided composite structural engineering support for the Main and secondary mast, as well as the boom and the crane. (Gurit)
The contract calls for the vessel to make up to 12 crossings per year. She is operating under a 15-year agreement to supply components for the Ariane 6 space program managed and financed by the European Space Agency. Canopée is operated by Alizés, a joint venture between Zéphyr & Borée and Jifmar Offshore Services, and she is registered under the French International Flag.