Ro/Pax Ferry Goes Aground and Spills Fuel off Sweden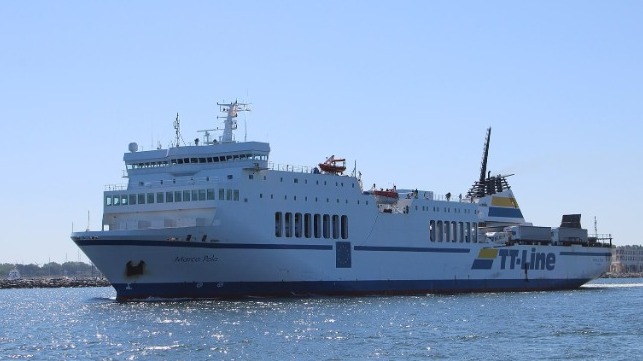 The ro/pax ferry Marco Polo has gone aground off the coast of Hörvik, Sweden and is leaking fuel, according to local media.
At about 0625 hours on Sunday, the TT Line ferry was under way in the Baltic on a routine voyage from Trelleborg to Karlshamn when it gradually deviated to the west of its usual course and ran aground. It may also have touched bottom before the final grounding location, and with enough force to damage the hull, according to Swedish investigators.
A total of 71 people were aboard, including 41 passenbers and 30 crewmembers. All passengers and 10 crewmembers were taken safely off the ship and delivered to a nearby harbor.
The vessel is not in danger of sinking, according to Swedish maritime authorities, and salvors are examining it to determine the extent of the damage. An early assessment suggests that it has been holed towards the bow and amidships, resulting in some amount of flooding, according to Aftonbladet.
October 22, 2023
The fuel spill from the damage is substantial enough in scale that it can be smelt from nearby Solvesborg, according to local media. It has reached land in some locations, and the local municipality has advised residents not to swim in the water until the all-clear is given.
A containment boom has been deployed around the vessel to prevent further spread of the fuel. The amount released is not currently known.
A larger plume of petroleum was spotted south of the wreck site later Sunday afternoon, indicating that the ship may have been damaged earlier in the accident timeline. AIS data shows that the vessel passed close by a marked shoal just off its port side, and it slowed suddenly from 17 knots to 11 knots before picking up speed again.
"It has turned out that the ferry ran aground earlier in the morning and leaked oil for several nautical miles before it ran onto the foundation where it is stuck," said Swedish Coast Guard lead investigator Jonatan Orn, speaking to Aftonbladet.
Top image: TT Line ferry Marco Polo (Elias191204 / CC BY SA 4.0)