Rickmers and Diana Shipping Order Vard's Hybrid CSOVs for New Wind Venture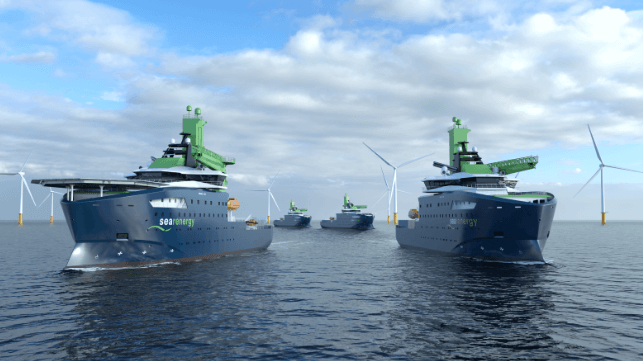 A new consortium consisting of some of the best-known names in the shipping industry looks to leverage its expertise to break into the offshore wind sector with newly built hybrid Commissioning Service Operation Vessels (CSOV). The group which includes the Rickmers family and Diana Shipping as well as Blue Star Group, KG, and SeraVerse, cites the need for more capacity in the sector launching its Windward Offshore consortium with an order for two CSOV from Fincantieri's Vard group and an option for two additional vessels.
Noting that the political framework is fostering the entry of new developers into the offshore wind market, the new partnership is being launched by SeaRenergy, a group launched in 2010 by the Rickmers family. The company was set up as the offshore wind services arm within the family group and has developed in the sector. Since 2015, they have been working with Vard exploring SOV projects.
"The Rickmers family has now decided to actively support the energy transition and be a first mover to ensure availability of attractive vessel capacity in 2025 and beyond when the wind farm projects currently under planning and permitting will be installed and commissioned," said Clasen Rickmers, owner of SeaRenergy and The Asian Spirit Steamship Company.
The group says it is convinced of the potential of this investment and emphasizes that this is a strategic move to realize opportunities for each company in the offshore market. They cite what they believe is a low capacity in available tonnage as the offshore wind industry looks to move into its next phase of growth.
"We are excited to announce our entry into a new sector of the shipping industry through a strategic partnership involving the acquisition of two CSOV vessels," says Semiramis Paliou, Director and CEO of Diana Shipping. "Together with our esteemed partners, we embark on an exciting journey that should contribute to a cleaner and more eco-friendly world."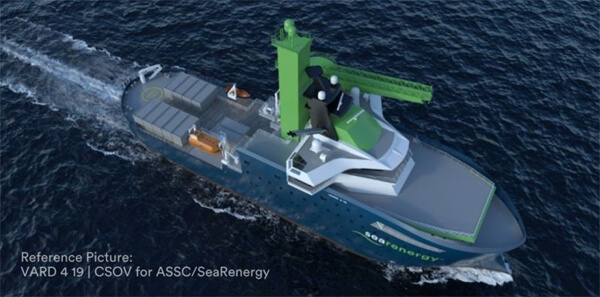 Partnership looks to introduce its first vessel in 2025 timed to the next phase of growth for offshore wind (SeaRenergy)
Based on VARD's well-established 4 19 design, the order calls for hybrid vessels that will have a battery hybrid system and be prepared for operation on green methanol. The vessels will also employ systems to control power, bridge, and communication functions to reduce fuel consumption.
The vessels will be 287 feet in length with accommodations for 120. Among the features they will be equipped with is a height-adjustable motion-compensated gangway with an elevator system, and a height-adjustable boat landing system.
The first hull will be built in Romania, while the final outfitting, commissioning, and delivery will be carried out in Norway. The second vessel will be built and delivered in Vung Tau, Vietnam. The first vessel is scheduled for delivery in the second quarter of 2025.