Residents Brace for Effects of Fuel Oil Spill in Central Philippines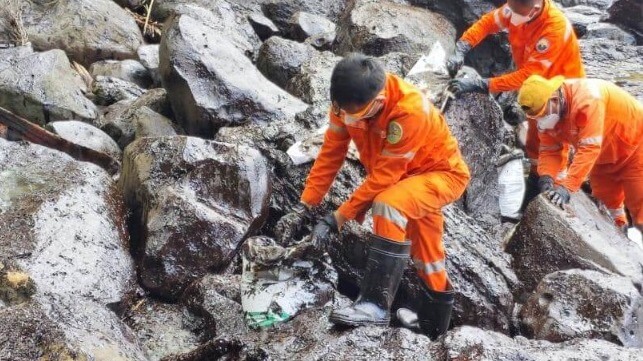 As the spill from a sunken tanker off the island of Mindoro continues to spread, local residents are volunteering to clean up fuel oil in hopes that it might reduce the impact on their communities and livelihoods. Some are receiving pay, thanks to the shipowners' spill response contractor and the government of the Philippines, which are both hiring Mindoro residents to carry out shoreline cleanup.
"There is so much oil that we become nauseous when we are not wearing protection. Many are feeling unwell because of the stench," one volunteer in the town of Pola told Reuters.
The product tanker Princess Empress sank off Balingawan Point on Feb. 28 after losing power in rough seas. The crew were rescued, but the vessel was carrying a cargo of about 210,000 gallons of fuel oil, and she soon began spilling petroleum into the water. By Wednesday, the spill had spread down the east coast of Mindoro and as far south as the Caluya Islands, some 75 nm from the wreck site. Dozens of designated marine sanctuaries are at risk of pollution, including about 90,000 acres of mangroves, reefs and seagrass beds.
The local populace has also been affected. Mindoro's coastal towns are reliant on fishing and tourism for income, and the arrival of the oil has an immediate impact on both. A government-ordered fishing ban is in effect for areas near the spill, and the petroleum washing ashore may deter visitors. In the town of Pola, the population center nearest to the wreck site, more than a dozen people have sought treatment for acute symptoms consistent with VOC inhalation, according to local media.
"Seemingly overnight, at least 18,000 fisherfolk in Oriental Mindoro alone have been robbed of their livelihood as fishing activities are forcibly put on hold. Residents are also robbed of their seafood supply – a heavy blow for a province in which over 50 percent of households already suffer various levels of food insecurity," said Father Edwin Gariguez, organizer of the activist group Protect VIP. "The injustice suffered by communities from this terrible incident is further amplified by health impacts they are likely to experience."
Environmental groups have also used the opportunity to highlight what could happen if a larger vessel went aground. Princess Empress was only carrying 210,000 gallons of fuel oil, or roughly 700 tonnes - a pittance when compared with the fuel tanks of a large merchant ship.
"This is not the first accident in the VIP [Verde Island Passage] nor will it be the last if the push for more LNG terminals will not be stopped. The more tankers ply these waters, the higher the chances another such accident will occur, even if all precautions are taken," said Gerry Arances, the executive director of environmental think tank CEED Philippines.