Report: Royal Navy Could Lose its Amphibs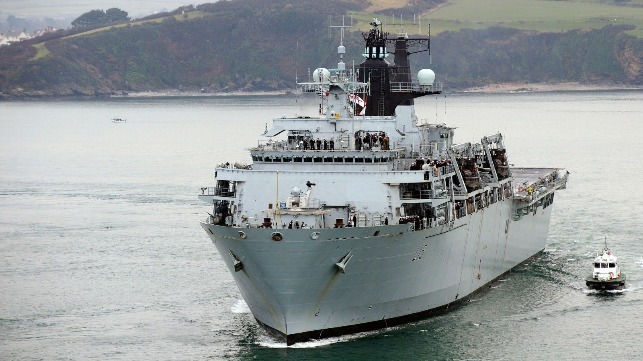 The British Parliament's Defence Select Committee is concerned that the UK government could be planning to dispose of the Royal Navy's two amphibious warfare vessels as a way to free up funding and manpower. In a new report published Sunday, the committee warned that the disposal of the amphibs HMS Albion and Bulwark would be "militarily illiterate," "totally at odds with strategic reality" and an "irreparable act of folly." Without amphibs, the committee said, the UK's armed forces would not have "any prospect of . . . achieving a successful amphibious landing with a substantial force."
The government of Prime Minister Theresa May is currently undertaking a study of the nation's defense expenditures, known as the National Security Capability Review (NSCR). Since last year, persistent leaks from defense sources have suggested that the review panel intends to reduce the size of the Royal Marines by 30 percent and dispense with the two amphibs as a cost-saving measure. In this scenario, the service's two new jump-ramp carriers - HMS Queen Elizabeth and HMS Prince of Wales - would take on the role of amphibious warfare, though they lack the capability to host landing craft.
The government has described these reports as "speculation," but it may not have created an option for informed debate: the Committee alleges that the review has occurred in the dark. "Bodies that would expect to be consulted in the course of these reviews have not been 'brought in' to the process, and have struggled to receive substantive answers to many questions that have arisen. This is a particularly serious omission where Parliament is concerned," the report concluded. "The Department may dismiss such reports as 'speculation', but they are inevitable in a secretive - indeed a closed - process without proper external engagement."
The Albion and Bulwark are due to age out of service in the early 2030s. They are the Royal Navy's last remaining amphibs after the service's former flagship, HMS Ocean, was decommissioned and sold to the Brazilian Navy.