Report: Air Pollution Puts Cruise Passengers at Risk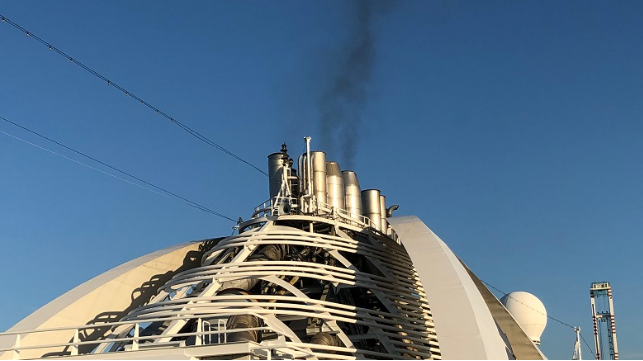 An investigative report by Dr. Ryan Kennedy of the Johns Hopkins University Bloomberg School of Public Health claims that air quality on four Carnival Corporation ships can be worse than some of the world's most polluted cities including Beijing and Santiago.
The study was commissioned by the international environmental organization Stand.earth.
The study measured ultrafine particulate pollution from multiple locations on four cruise ships, both in port and at sea over multi-day cruises. Ultrafine particles can have thousands of times more surface area than fine particles and are small enough to be inhaled into a person's lungs and move into the bloodstream, where they can cause higher rates of cardiovascular disease and asthma. Recent studies have suggested that ultrafine particles may be the most dangerous to human health, and that particulate matter from ship exhaust may be to blame for tens of thousands of annual deaths, claims the organization.
Stand.earth is urging Carnival Corporation to transition away from using heavy fuel oil to power its ships and immediately switch to a cleaner-burning fuel while installing filters to help reduce ultrafine particulate pollution. Ultimately, Stand.earth wants Carnival Corporation to transition away from fossil-fuel powered ships completely.
All four ships in the study have scrubbers installed that allow them to burn heavy fuel oil inside most of the North American and Caribbean Emissions Control Areas. In California, where scrubbers are banned within 24 miles from shore, ships are required to switch to a cleaner-burning fuel.
"This report's continuous elevated readings indicate that even in California, where Carnival Corporation is required to switch to a cleaner-burning fuel, air pollution on board remains a serious concern," said Kendra Ulrich, Senior Shipping Campaigner at Stand.earth.
A 2017 study by the Nature & Biodiversity Union in Germany measured ultrafine particulate air pollution from cruise ship emissions on the Greek island of Santorini. This prompted the British Heart Foundation to issue advice telling cruise passengers to avoid standing in areas near or downwind from engine funnels.
Channel 4 Dispatches conducted an undercover study in 2018 in the U.K. This investigation examined ultrafine particulate air pollution on board a Carnival-owned P&O cruise ship. It found readings downwind of and next to engine funnels that were double that of central London. These air pollution fears fueled a fight against a new cruise ship terminal in London on the river Thames that would have brought up to 55 cruise ships per year to London. The ships would have to run their engines around the clock due to a lack of on-shore power. Plans for the new terminal were scrapped in November 2018 due to air pollution concerns.
The report is available here.