Production Starts at Aasta Hansteen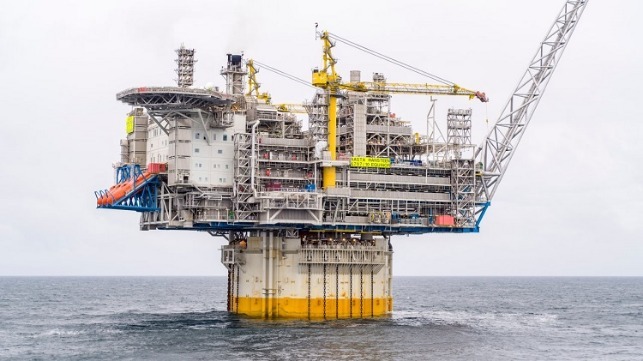 Equinor and its partners started production from the Aasta Hansteen gas field in the Norwegian Sea on December 16.
Together with the Polarled pipeline, the field opens a new region for gas export to Europe. The project, located in 1,300 meters of water is the deepest field development on the Norwegian continental shelf (NCS), the largest spar platform in the world, and a first on the NCS.
Aasta Hansteen is located 300 kilometers (190 miles) west of Sandnessjøen, far from other fields and in an area with harsh weather conditions. The field development concept consists of a floating platform with a vertical cylindrical substructure moored to the seabed (spar platform). 339 meters (1,110 feet) tall, the platform weighs 70,000 tons. When the platform was towed to the field in April, it was the biggest tow on the NCS since Troll A in 1995.
The gas is produced from seven wells in three subsea templates. This is the deepest ever installation of subsea equipment on the NCS.
The pipeline, operated by Gassco, runs for 482 kilometers (300 miles) and is the first offshore pipeline to cross the Arctic Circle. It is located almost 1,300 meters below sea level. The pipe is 36 inches in diameter, and the transport capacity for gas is approximately 70 million cubic meters per day.
It terminates at the Nyhamna plant operated by Shell in western Norway. here the rich gas gets processed before dry gas is sent on to the U.K. and continental Europe through Norway's integrated transport system. To accommodate deliveries from Aasta Hansteen and future discoveries in the Norwegian Sea, the Nyhamna plant has been extensively converted and expanded.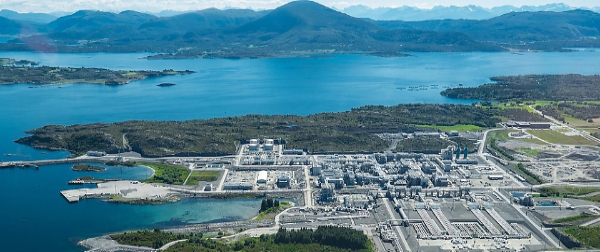 New discoveries have already been made in the area. The first one, Snefrid North, is already under development, and will come on stream towards the end of 2019. The recoverable resources at Aasta Hansteen, including Snefrid North, are estimated at 55.6 billion standard cubic meters (Sm3) of gas and 0.6 million Sm3 of condensate (353 million barrels of oil equivalent).
Although the substructure and topside structure were built in South Korea Aasta Hansteen has generated big spin-offs for Norwegian supply industry. More than half of the topside equipment packages were produced in Norway, and the subsea equipment is also Norwegian. The subsea templates were built in Sandnessjøen and the suction anchors keeping the gigantic platform in place are produced in Mo i Rana. The platform was hooked up at Stord south of Bergen, which is also where much of the hook up and commissioning work was performed. In the operations phase the field will be operated from Harstad, base services will be delivered from Sandnessjøen, and the helicopter traffic will go from Brønnøysund.
The field has been named after pioneer feminist, social commentator, painter and author Aasta Hansteen. Equinor is undertaking the project with partners Wintershall, OMV and ConocoPhillips.