Prelude FLNG Nears Completion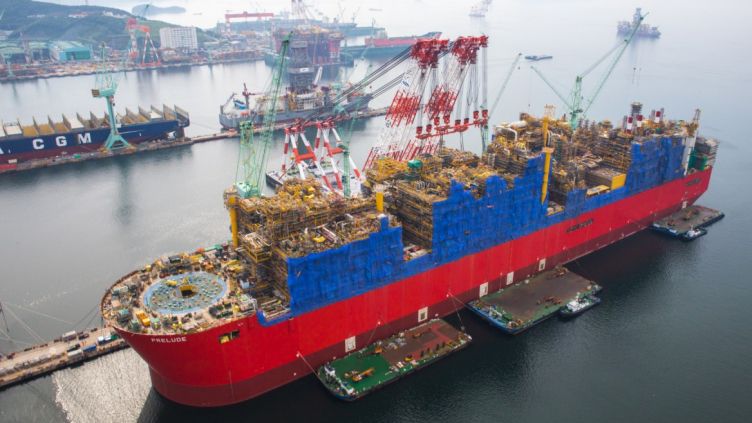 Samsung Heavy Industries (SHI) is nearly finished with the construction of the world's largest floating offshore facility, the 600,000 ton Prelude FLNG. Delivery and commencement of production are scheduled for 2016.
The two turbine-driven LNG trains on the Prelude are designed for a nominal production capacity of 3.6 million tons per annum (mtpa). It will also produce 1.3 mtpa of condensate and 0.4 mtpa of LPG.
The facility will be moored at the Prelude and Concerto offshore gas fields in the Browse Basin, off Western Australia. Its LNG is intended for sale on the Asian market, and it has an estimated service life of 20 to 25 years.
The Prelude's hull was launched in December 2013. At 600,000 tons displacement at full load, she is six times heavier than a full-size aircraft carrier, and only ten percent lighter than the record-holding ULCC Knock Nevis (formerly Seawise Giant).
Embedded below her decks is the world's largest non-disconnectable mooring turret, which permits the vessel to weathervane while remaining connected to its wells.
With additional capacity coming online in the U.S. and Australia, plus new export LNG trains planned in Iran and Russia, analysts warn that she may prove to be less profitable than originally forecast as global supply rises - especially in light of her $12 billion predicted construction cost. For comparison, Cheniere's shoreside Sabine Pass facility in the United States is estimated to have a total built cost comparable to Prelude's, but with six times the production capacity at 21 mtpa.