Ports Prepare for Hurricane Irma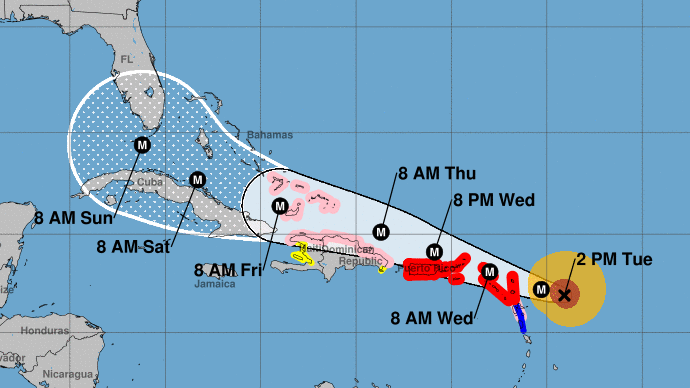 Ports in Florida and the Caribbean are making preparations for Hurricane Irma, a classic Atlantic tropical storm that has strengthened to a Category Five cyclone. It is the strongest Atlantic Ocean hurricane in recorded history (excluding Gulf of Mexico storms), with gusts exceeding 175 knots. The U.S. National Hurricane Center warns that it is "potentially catastrophic."
In Puerto Rico, winds exceeding 65 knots are expected on Wednesday evening as the eye of the storm passes north of the island. The NHC called for preparations to be "rushed to completion" and warned of a life-threatening storm surge of up to 11 feet above baseline.
The U.S. Coast Guard has set port condition Yankee for the U.S. Virgin Islands and Puerto Rico, indicating the imminent arrival of gale-force winds. Ports are closed to inbound traffic unless specifically authorized, and vessels over 500 GT should make plans to depart; San Juan is not a safe harbor, and the USCG would like to have the port's inventory of vessels at a minimum during the storm.
San Juan terminal operator Crowley Puerto Rico Services says that it accelerated the unloading of cargo over the weekend to make sure that goods are available to retailers in advance of the hurricane. Crowley has closed its Isla Grande port facilities, and it will remain closed on Wednesday so that employees and their families can prepare for the storm.
Satellite Animation Sees Major Hurricane Irma Approaching Leeward Islands Credit: NASA-NOAA GOES Project pic.twitter.com/S4ModJztre

— NASAHurricane (@NASAHurricane) September 5, 2017
The forecast for the mainland U.S. is still uncertain, but current projections show that the eye of the storm may arrive off the southern tip of Florida on Sunday. The state of Florida declared a state of emergency on Tuesday, and Gov. Rick Scott has asked the White House for assistance for the construction of flood defenses. Scott has also called up all 7,000 members of Florida's National Guard to report for duty beginning Friday.
In the Florida Keys, officials have ordered tourists to evacuate by Wednesday morning, and an evacuation order for residents is likely coming soon.
In Broward County, Port Everglades says that it is closely monitoring the progress the storm, and it has asked all its tenants to review their hurricane plans. A number of cruise ships, tankers and cargo vessels scheduled to arrive this week could be affected by heavy weather. Port Everglades is home to fuel receiving terminals for four international airports and 12 counties, and five product tankers are presently in port or waiting offshore.
Hurricane Irma threatens American shores just weeks after Hurricane Harvey decimated the greater Houston area. If Irma makes landfall as a Category Four storm or greater, it will set a new record: the continental United States has never experienced two storms of that magnitude within one hurricane season.