Ports Commemorating National Maritime Day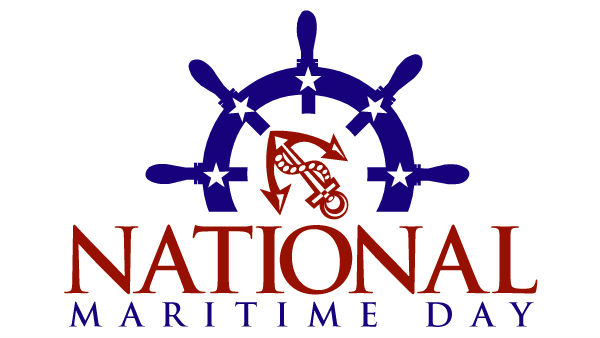 Monday, May 22 is National Maritime Day. It was declared by Congress in 1933 to call attention to America's proud maritime heritage and to honor the men and women who serve and have served as U.S. merchant mariners.
It's also a day to recognize and reflect on the rewards that America's ports bring the country in terms of jobs, economic development, goods movement and international competitiveness.
For the American Association of Port Authorities (AAPA), National Maritime Day offers the nation's ports a great opportunity to showcase the value of their facilities, operations and personnel to their respective communities.
In addition to supporting The Propeller Club Port of Washington, D.C.'s National Maritime Day reception on the evening of May 22, AAPA President and CEO Kurt Nagle will participate in the federal government's commemorative program earlier that day when he joins U.S. Department of Transportation Maritime Administration Executive Director Joel Szabat at USDOT's Washington, D.C., headquarters for the National Maritime Day and Wreath Laying Ceremony.
"Nationwide," said Nagle, "America's seaports support 23.1 million jobs, annually generate more than $321 billion in federal, state and local taxes, account for over a quarter of the U.S. economy and handle more than 2.2 billion metric tons of international and domestic cargo. From these statistics alone, it's clear that ports play a vital role in supporting our national economy, jobs, tax resources and their communities.
"On top of that," he continued, "America's seaports and their private-sector partners are planning nearly $155 billion in port-related infrastructure investments through 2020, which will further bolster the economy and help ensure the goods we export and import are moved efficiently, thereby improving America's competitiveness in worldwide markets."
Here is how some U.S. ports are doing to observe 2017's National Maritime Day:
Port of Baltimore will host its National Maritime Day Port Expo from 10:00 a.m. to 3:00 p.m. on Sunday, May 21, at Canton Pier 13, located at 4601 Newgate Avenue in Baltimore. The free event will feature visiting ships, tours of marine terminals and a display of Lego model vessels.
Canaveral Port Authority, in conjunction with the Cape Canaveral Council of the U.S. Navy League, the Propeller Club of Port Canaveral, Military Sealift Command Space Coast Retirees, the Space Coast Chapter of the U.S. Merchant Marine Academy Alumni and the Canaveral Pilots Association is sponsoring the 16th Annual Port Canaveral Maritime Day Commemoration on Saturday, May 27 beginning at 10:00 a.m. at Fishlips Waterfront Bar & Grill. There will be a boat ride for a memorial wreath laying included with a luncheon.
Port of Duluth-Superior, in conjunction with its local Propeller Club chapter, will honor its Merchant Mariners, Merchant Marine veterans and other Propeller Club members who serve and have served in the U.S. Armed Forces, as well as recognize all maritime stakeholders, during a Maritime Day luncheon in Duluth at Pier B Resort on Monday, May 22. The event begins with proclamations and presentations at 11:45 a.m., followed by a service of remembrance, hosted by the Twin Ports Ministry to Seafarers. The keynote speaker for the event is Matt Doss, policy director for the Great Lakes Commission, who will highlight how the Commission is strengthening the Great Lakes as an environmental and economic asset for the region. For details, [email protected]
Port Everglades, in Broward County, Fla., is hosting its 7th Annual Keep Port Everglades Shipshape painting party on Saturday, May 20. Each year, Port Everglades invites volunteers of all ages and talents to participate in a community service project to transform recycled petroleum drums into decorative trash and recycling bins that will be used throughout the port. During the awards portion of the event, participants will learn about the positive economic impact Port Everglades has in the community and the important contributions that mariners make in international trade and cruise travel.
Port of Galveston will celebrate 2017 National Maritime Day on May 22, beginning in the morning with an "All Things Maritime" mini expo event that will be attended by approximately 500 5th graders from the Galveston Independent School District. The students will tour several boats, including the Texas A&M TS General Rudder and the Baysmart Express, and will visit various sites along Pier 21 including the Texas Seaport Museum, the 1877 Tall Ship Elissa, and the Ocean Star Oil Rig museum. In the afternoon, a ceremony will take place to honor the generations of mariners who have served and sacrificed, followed by an invitation-only Maritime Mixer, co-sponsored by the Galveston Regional Chamber of Commerce and the Port of Galveston.
Port of New Orleans (aka Port NOLA) is celebrating all of May as Maritime Month and National Maritime Day on May 22 to recognize the value of maritime commerce in the region and to pay tribute to the region's rich maritime history. The theme of Maritime Month is "Your Working River" and includes activities to demonstrate the industry's vital role in job creation and its connection to community, including 15- and 30-second promotional ads explaining the benefits of "Your Working River." Port NOLA is also partnering with the Orleans Parish School Board to bring several high school students to the port to explore maritime careers and get a firsthand look at the vibrant activity via a waterside tour of the port.
On May 22, Port NOLA will host WWL-TV's Morning Show for a live broadcast from the Port of New Orleans' Fireboat from 7:00 a.m. until 9:00 a.m. In a more official gesture, the port's Board of Commissioners will be asked to consider passing a resolution at its May 25 board meeting officially declaring May as Maritime Month. To cap off the month-long activities, the port will host a boat tour for the public on May 26.
"We've coordinated with media partners and stakeholders to celebrate the hardworking men and women who ensure our local maritime efforts play an important role in the global supply chain," said Brandy D. Christian, Port of New Orleans president and CEO. "Ours is a competitive, tough industry, not well understood by those who aren't directly connected with it. We want to showcase the industry's value and the range of job opportunities."
Port of Port Arthur, in Texas, on May 22 will participate in sponsoring its community's 31st annual National Maritime Day Observance and Memorial Service. This year, the event will recognize the 75th Anniversary of the German U-boat attacks against U.S. shipping in 1942, when 33 ships were sunk or damaged by German U-boats that were en route to or from the Golden Triangle.
The event will recognize the six ships lost in action during May 1942: Munger T. Ball, Aurora, Gulfpenn, Gulfprince, Gulfoil, and Mercury Sun. In all, 64 U.S. merchant mariners and four armed guards were killed. Following the observance at the Seamen's Memorial Sundial, a U.S. Coast Guard color guard will lead the attendees to the seawall, where a wreath, sponsored by the Propeller Club of Ports of the Sabine, will be laid.
The event will also honor retiring Captain of the Port, Captain Randall Ogrydziak, USCG, and Robert Hoffpauir, an agent for Biehl & Co., for their many years of service to the mariners that visit the docks of the Sabine Neches Waterway, and to the maritime industry. After that, participants will return to the Seafarers' Center, where the port will sponsor a barbecue lunch, prepared by the Knights of St. Peter Claver. During lunch, Captain Michael Miller will make a presentation on the new opportunities in maritime training that is being offered at Lamar State College - Orange.
Port of Redwood City, in San Mateo County, Calif., together with Sims Metal Management and Mrs. Suzanne Parsons, co-sponsored a National Maritime Day event on April 29 at the San Mateo County History Museum, where visitors were invited to learn about local maritime history and participate in maritime craft, rope tying, and other activities for free. The event was part of STEAM Fest 2.0, which the port co-sponsored to inspire the county's diverse youth to see themselves as scientists, artists, creators and inventors. STEAM stands for Science, Technology, Engineering, Art and Math. For more information: http://www.historysmc.org/family-past-times
Port of San Diego is hosting a month-long celebration in May titled "Maritime Month." The series of events recognizes the industry's role in job creation and economic prosperity and its commitment to education, training and environmental stewardship. Special events are planned for Maritime Month to give the public an upfront and personal opportunity to experience the working waterfront. Free public bus and boat tours will feature detailed narrative on the working waterfront including cargo operations, cruise facilities, shipyards, and associated vessels calling on the port. There will be two bus tours and four boat tours.
Port Tampa Bay officials on Tuesday, May 23, will participate in a commemorative National Maritime Day dinner and water tour, organized and hosted by the Port of Tampa Propeller Club. The event will be held aboard the Yacht Starship, a dinner/cruise vessel moored at one of the port's berths downtown. James "Hondo" Geurts, Acquisition Executive, Special Operations Research, Development Acquisition Center with United States Special Operations Command at MacDill AFB, FL, will be the featured speaker.
The Port of Virginia's CEO and executive director, John F. Reinhart, will participate in a commemorative wreath-laying ceremony and brief reception afterward on May 22, sponsored by the Propeller Club of Norfolk at the Elizabeth River Pavilion & Deck, located behind Nauticus and the Half Moone Cruise and Celebration Center.