Port Sudan Becomes Evacuation Hub for Foreigners Fleeing Conflict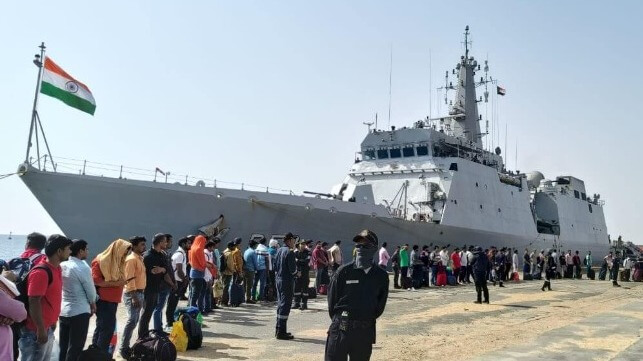 Evacuation operations are ramping up at Port Sudan as foreign nationals flee a violent conflict between two warring factions of the Sudanese military. Taking advantage of a fragile ceasefire, convoys organized by governments and aid groups are ferrying foreigners to the city of Port Sudan, where outbound ships and cargo plane flights are under way.
On April 15, fighting broke out between the governing Sudan Armed Forces (SAF) and an allied paramilitary group, the Rapid Support Forces (RSF). The SAF and RSF joined forces to overthrow the civilian government in a coup in 2021, but their alliance has disintegrated in recent months over the details of a power-sharing agreement. As the date for finalizing the deal approached, tensions escalated into combat, and at least 400 people have been killed to date. U.S. and Saudi diplomats have negotiated a brief three-day ceasefire to enable evacuation, though fighting has continued in Khartoum.
Unlike the chaos in the capital, Port Sudan is reportedly under the full control of the Sudan Armed Forces. The port itself is operating normally, with all services and businesses open, according to a local correspondent for West P&I Club. As a natural transport hub and a place of relative safety, it has become a mustering point for state-sponsored evacuation from the country.
The Indian Navy has deployed two warships, INS Sumedra and INS Teg, to ferry its citizens across the Red Sea from Port Sudan to Jeddah. The first voyage got under way with 278 Indian nationals aboard the Sumedra on Tuesday. From Jeddah, the evacuees will be transferred onwards for repatriation.
First batch of stranded Indians leave Sudan under #OperationKaveri.

INS Sumedha with 278 people onboard departs Port Sudan for Jeddah. pic.twitter.com/4hPrPPsi1I

— Arindam Bagchi (@MEAIndia) April 25, 2023
The UK government has diverted the frigate HMS Lancaster to Port Sudan, and she is expected to arrive to help with the evacuation mission on Wednesday. An additional "humanitarian platform" ship will arrive shortly after, according to UK Defence Secretary Ben Wallace.
The commercial ferries Amanah and Aziz Express have also been providing service between Port Sudan, Suakin and Jeddah, according to AIS tracking data provided by Pole Star. Amanah called at Port Sudan as recently as Tuesday morning.
The U.S. government does not currently plan to stage an evacuation operation for American citizens because of the risky security situation in Khartoum, the U.S. State Department said Tuesday. However, for Americans who are able to leave Port Sudan via ferry, U.S. officials are on hand to receive them on arrival in Jeddah. An estimated 16,000 U.S. citizens remain in Sudan, including many dual U.S./Sudanese nationals; U.S. officials believe that a relatively small number seek to leave the country.
The U.S. military has assets in place at Camp Lemmonier, Djibouti and off the Sudanese coast in case further assistance is needed. The U.S. Navy has deployed the destroyer USS Truxtun, and the expeditionary sea base USS Lewis B. Puller is under way to join her. The Puller has a large flat deck for helicopter operations, as well as a large working deck for small boat launch and recovery.