Port of Tacoma Moves Forward on LNG Bunkering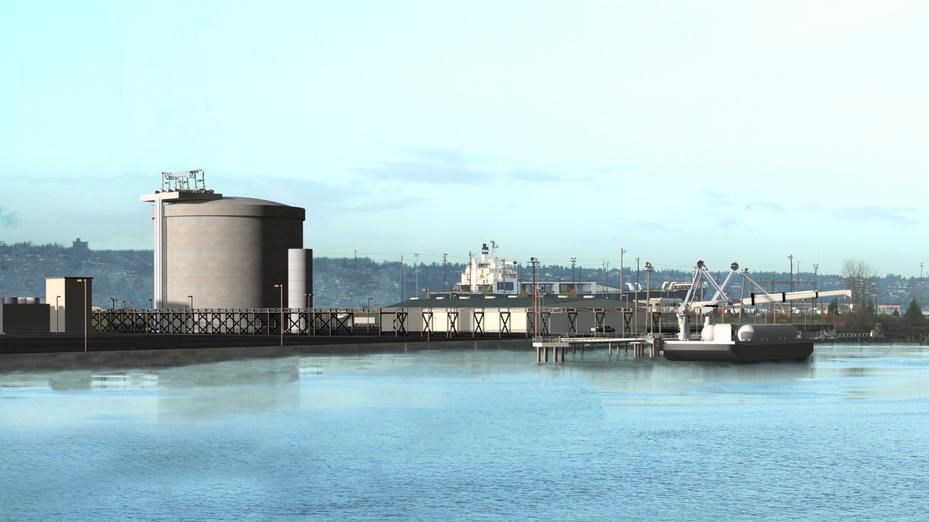 The Northwest Seaport Alliance moved forward on LNG bunkering Tuesday, granting an approval for easements for a new liquefaction plant and terminal in the Port of Tacoma.
The LNG facility's developer, utility company Puget Sound Energy, had asked for easements for a pipeline from its proposed plant to the Blair Waterway, plus an easement for a loading dock on the waterway to provide bunkers to LNG-fueled vessels – principally TOTE Maritime Alaska's two Orca-class ships, which will be converted to run on liquefied natural gas.
TOTE says that the fuel conversion will reduce the two ships' sulphur oxide (SOx) emission by 100 percent; particulate matter (PM) by 91 percent; nitrogen oxide (NOx) by 90 percent; and carbon dioxide (CO2) by 35 percent. The ships will retain the ability to use traditional bunkers.
In addition to its bunkering function, the LNG facility would store natural gas for the utility during periods of low usage, then allow it to be released to customers during periods of high demand (acting as what is known as a "peak-shaving facility"). Observers suggest that it may also allow PSE to transfer natural gas as LNG to other locations in the Sound, to be used for regasification and supply to utility customers.
Puget Sound Energy has now obtained most permits needed for construction, and it forecasts that the terminal could be complete by 2019. However, it still faces several obstacles. The main one involves its status as a regulated utility; the privately held firm would like to form a separate for-profit company for the sales of LNG, a complex legal structure which the state's utility commission has not approved.