Port of Savannah Set New Container Freight Record in 2022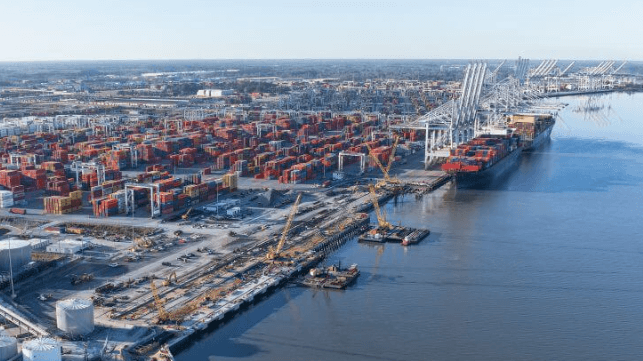 Thanks to West Coast congestion and a boom in East Coast container traffic, the Georgia Ports Authority handled a record-setting 5.9 million TEU worth of containerized cargo in 2022 - five percent more than it handled the year before.
The Port of Savannah saw four of its top five months ever for container volume during 2022, and trade volumes peaked in August at 575,500 TEU - another all-time record.
The port stayed so busy through the summer that it developed a backlog of dozens of ships, a sign of exceptional demand (and a matter of concern for some customers). That congestion has cleared and operations have returned to normal.
"It was a challenging year, but collaborative effort across Georgia's supply chain ensured cargo movement remained fluid," said GPA Executive Director Griff Lynch. "I want to thank our Board for approving new infrastructure that allowed us to handle more cargo."
Port of Savannah's backlog has cleared, but GPA is still investing in improvements to boost capacity for the next time cargo demand surges. It is overhauling Berth 1 at Savannah's Garden City Terminal to welcome vessels up to 16,000 TEU in size, allowing carriers the flexibility to use larger and more efficient vessels. Along with a 90-acre expansion for the terminal and the conversion of the nearby Ocean Terminal to an all-container operation, the port will increase its capacity from six million to 7.5 million TEU by the end of this year, then as much as nine million by 2025.
Port Houston, another popular alternative to the major West Coast gateways, also set a new record for containerized freight in 2022. Volume rose by 14 percent to about four million TEU, reflecting soaring demand for imports, congestion at primary container hubs, and carriers' willingness to try new ports to avoid delays.
"The volumes we've experienced this year at Port Houston have been incredible, and we never wavered in our commitment to do our part to efficiently move cargo through our terminals," said Roger Guenther, the port's executive director.