Port of San Diego Wins G2 Breakbulk Liner Service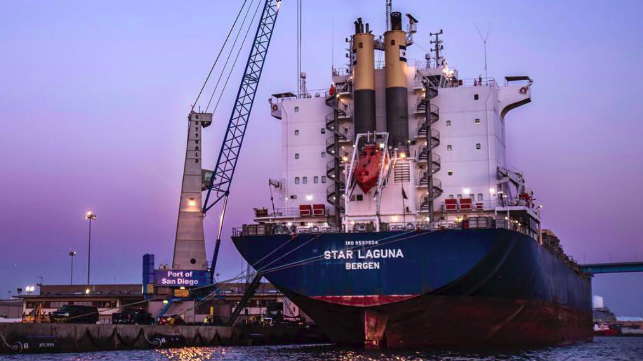 The Port of San Diego's focus on breakbulk and heavy-lift cargoes is paying off. According to the San Diego Union Tribune, the port has landed a three-year agreement with G2 Ocean for regular liner calls at its Tenth Avenue Marine Terminal. G2, the newly formed pool combining Grieg Star and Gearbulk, is the largest operator of open-hatch geared freighters, with 130 vessels in its fleet.
Port of San Diego is known for its focus on specialty cargo, not containerized goods, and it is gradually building out the 100-acre terminal for high-and-heavy loads, project cargo, breakbulk, reefer and dry bulk. The terminal's pier has 42 feet of depth alongside, a mobile crane and 300,000 square feet of warehouse space, and it is currently undergoing an upgrade.
The port is investing millions at Tenth Avenue Terminal to attract operators like G2. Contractors began work on a modernization plan for the site in December, with support from a $10 million U.S. DOT TIGER grant. Two outmoded buildings will be demolished to free up space alongside the pier for ro/ro and crane operations, followed by new pavement, new utilities, improvements to on-dock rail, and 7,000 square feet of new buildings for office space and other uses. The work is scheduled for completion in late 2019.
Future improvements to the Tenth Avenue Terminal include increased dry bulk storage facilities, an improved dry bulk conveyor system, demolition of an additional warehouse, and five new rail-mounted gantry cranes. The plans are market-driven and will be fulfilled as trends, funding and customer needs allow, according to the port.