Port of San Diego's Sea Level Preparations Take Shape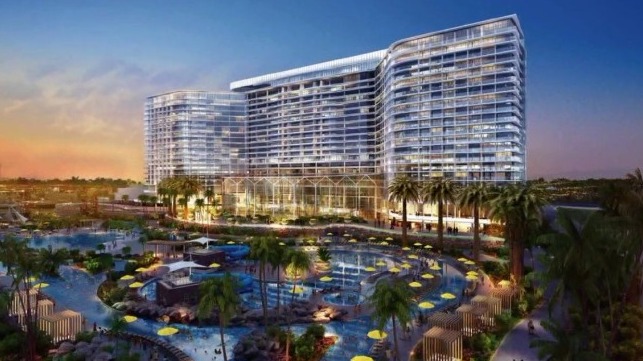 The Port of San Diego is acting early to prepare for sea level rise in the decades ahead, and its efforts are now visible on the ground. At the site of a future hotel and convention center in Chula Vista, developers trucked in enough soil to raise the ground level by 14 feet before beginning construction. The fill dirt project began in August and finished last week, and an adjacent RV resort project is now receiving a similar treatment.
These projects are part of the port's Chula Vista Bayfront Master Plan (CVBMP), a decade-long joint planning effort by the port, the City of Chula Vista and a coalition of stakeholders. It covers just one stretch of the 34 miles of waterfront that the port manages along San Diego Bay, and the agency is making detailed plans to cope with climate change on a site-by-site basis.
This work is not under way in the federal government's own program to estimate flooding risk, which excludes estimates of future sea level rise. However, it is a priority in California. According to the California Ocean Protection Council, the state faces higher-than-average changes in the decades to come because of the loss of mass at the poles. As the ice melts off West Antarctica, its gravitational effect on the ocean will decrease, causing the water level to fall near the pole and rise in the northern hemisphere. "For every foot of global sea-level rise caused by the loss of ice on West Antarctica, sea-level will rise approximately 1.25 feet along the California coast," a panel of scientific advisors wrote in an assessment for the Council. This means that San Diego will likely see an increase of 1.5-2.5 feet by century's end, with a small outside chance of an increase of up to ten feet (in the event of the collapse of Antarctic ice sheets). Levels will likely continue to rise through the 22nd century.
Courtesy California Ocean Protection Council
The port's efforts to prepare for this eventuality are beginning to bear fruit, and it has multiple projects in the works that factor sea level rise into their design. It also recently reached an agreement with the U.S. Navy's Region Southwest to plan and prepare for sea level rise, emphasizing the importance of infrastructure resiliency. San Deigo is a designated "strategic port" for military uses - it is the home of Pacific Fleet, 54 naval and Coast Guard vessels, the General Dynamics NASSCO shipyard and the West Coast's amphibious warfare hub - and the port says that preparing for sea level rise will help safeguard national security.