Port of NY & NJ Welcomes Largest Boxship Ever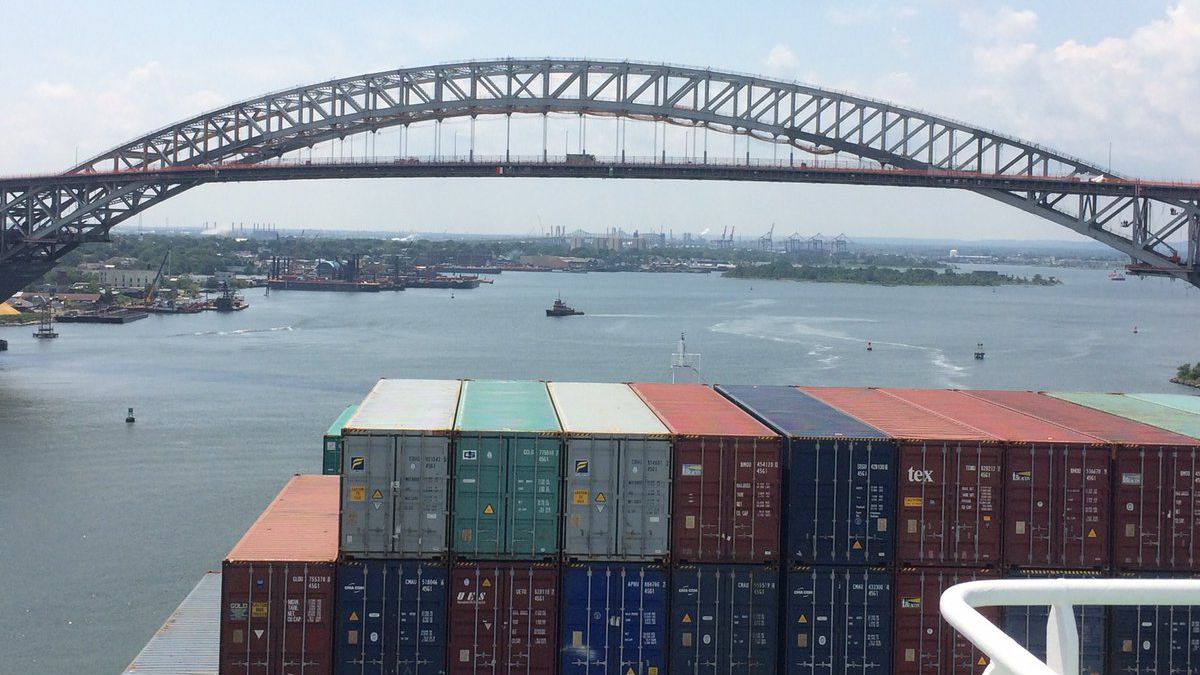 On Monday, the 13,200 TEU container ship OOCL Berlin sailed into Newark Bay, becoming the largest container vessel ever to call the Port of New York and New Jersey.
The Berlin measures longer than 1,200 feet; to date, the ships calling New York and New Jersey terminals have been 1,000 feet long and under. The newly completed Bayonne Bridge clearance project made her arrival possible.
OOCL Berlin passes under the Bayonne Bridge (PNYNJ)
Docking pilots from McAllister Towing handled the Berlin, which is operated in a vessel sharing agreement with Ocean Alliance partners CMA-CGM, COSCO Shipping and Evergreen. The vessel called at Port of Newark's Maher Terminal to load empties on one of its all-water East Coast services.
The Ocean Alliance and the other carrier alliances have announced their intention to deploy even larger vessels of up to 18,000 TEUs to the port as cargo demand grows. Few East Coast ports are able to provide infrastructure sufficient to handle and work ships of this size.
Staff from Maher Terminals and The Port Authority of New York and New Jersey joined OOCL (USA)'s director, Captain Syed Khoda, to present a commemorative plaque to the Berlin's master, Captain Tan Chen Seng. The Berlin will be joined by a sister ship, the OOCL Malaysia, later this summer.
Three other ships of the same class — the OOCL Korea, the OOCL Chongqing, and the OOCL France — may be added to a future rotation to New York and New Jersey, based on market conditions in the second half of 2017.