Port of Klaipeda Orders All-Electric Waste Tanker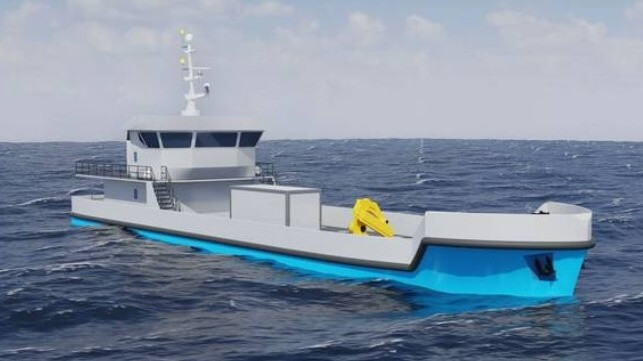 The Port of Klaipeda, Lithuania has ordered a rare class of all-electric vessel: a battery-powered waste tanker.
In a newly-announced deal, Port of Klaipeda will pay Baltic Workboats AS and BLRT Grupp a total of $12 million for a new liquid waste vessel. The 140-foot vessel will have enough room in its tanks for 100,000 gallons of waste, and will be highly automated to support operations with a crew of only three. With about 2,000 kilowatt-hours of battery capacity, it will have about eight hours of operating time in between recharging periods.
BLRT Grupp will supply the design through its Western Baltic Engineering subsidiary, and its Western Baltija Shipbuilding unit will build the hull and most of the auxiliary systems.
"Our shipyard is delighted to be part of a consortium with Baltic Workboats to construct, paint and equip a waste collection vessel that will contribute to reducing the environmental impact in the harbor waters," said Ilja Andrusenko, head of marketing at Western Baltija Shipbuilding. "This will be the first all-electric engine vessel we construct."
Baltic Workboats will provide the design and installation of the electric propulsion system, as well as the interiors. Work on the design phase is already under way. "We have built hybrid and electric ferries and patrol vessels in the past and are excited to build our first tanker with fully electric propulsion – what makes us especially proud is that it will sail in one of the Baltic states," said Rimo Timm, Head of Sales at Baltic Workboats.
Delivery for this one-of-a-kind vessel is scheduled for mid-2025.
Port of Klaipeda is also expanding its facilities and deepening its harbor to accommodate the largest vessels in the Baltic, with support from the European Union. It is also working with Proman on plans for methanol bunkering, along with a possible methanol-to-power project for supplying electricity to shoreside consumers.