Port of Cork Reports Banner Year for its Cruise Business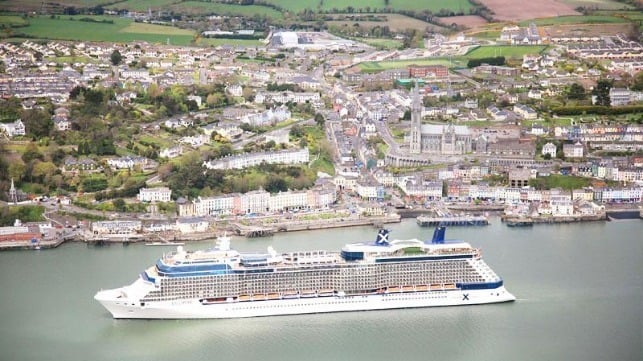 The Port of Cork had a great year for cruise tourism last year, with 68 cruise ships bringing 140,000 passengers and crew into Ireland's second-largest city. Five more ships called at nearby Bantry Bay Port.
"Port of Cork had a very positive year," said port CEO Brendan Keating. "Furthermore, in 2017, for the second year running, Cobh [an island with one of Cork's cruise terminals] was named the second Best Cruise Destination in the British Isles & Western Europe in the Cruise Critic Cruisers' Choice Destination Awards, a further endorsement of our cruise business."
This year, Port of Cork also expects to add a new Brittany Ferries ro/pax route directly to Santander, Spain. Port commercial manager Capt. Michael McCarthy says that it will have a positive impact on the transport sector. "We have had huge feedback already from the haulage industry, both for hauliers heading south and hauliers coming back with product," he told local media. The ferry could be especially good for fishermen, whose products would form a large part of the outbound cargo.
Port of Cork saw its total trade traffic rise by 8.6 percent last year, including a 3.7 percent rise in containerized cargo. to accommodate this growth, the port is moving a container terminal from a site near the city center to Ringaskiddy, an existing deepwater terminal located about seven nm closer to the sea. The move will allow the redevelopment of 160 acres of port land into residential and mixed-use areas. The opening is scheduled for 2025.
"The next three years promise to be the most transformational period for the Port of Cork in its history," said port chairman John Mullins last month. "The transition from a river port to a sea port will be substantially completed over this period. Land made available by this transition will provide Cork City with the ability to [redevelop]."