Port Manatee, Carver Maritime Ink Long-Term Terminal Agreement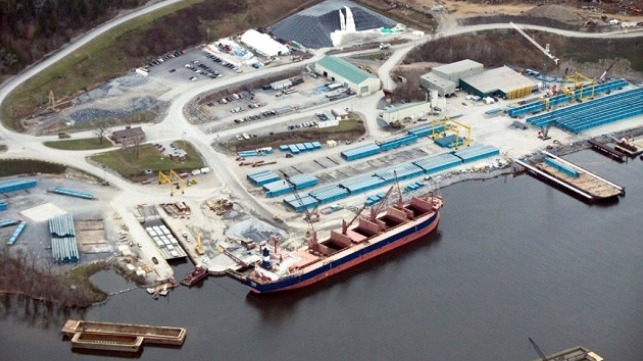 Port Manatee and Carver Maritime LLC have entered a long-term marine terminal operating agreement for a 10-acre aggregate offloading facility at the Florida Gulf Coast port.
The 20-year agreement, including options, approved by the Manatee County Port Authority ensures property lease payments of $1.8 million for the initial five-year term, in addition to wharfage payments for annual cargo throughputs.
With its 1,400-foot-long conveyor system, truck loading facilities and deep-water access, the Port Manatee site, formerly occupied by Vulcan Materials, suits Carver's aggregate supply, heavy construction and maritime operations.
The Port Manatee facility will be the third maritime endeavor for Carver Companies, which was founded in 1989. The first, the Port of Coeymans, a 400-acre privately owned and operated maritime industrial complex, opened in 2007 on the Hudson River, 10 miles south of Albany, New York. The second was established in 2016 on a former naval base property in North Charleston, South Carolina, and now encompasses 40 acres of industrial laydown and warehousing.
Located "Where Tampa Bay Meets the Gulf of Mexico," Port Manatee is the closest U.S. deepwater seaport to the expanded Panama Canal, with 10 40-foot-draft berths serving container, bulk, breakbulk, heavylift, project and general cargo customers.
Achievements for Port Manatee in its first fiscal half, ended March 31, compared with the first six months of fiscal 2017, include:
• Total short tons up 18.2 percent to 4,495,733;
• Containerized cargo up 12.6 percent to 18,894 TEUs;
• Containerized cargo tons up 12.2 percent to 192,679;
• Dry bulk cargo up 54.6 percent to 924,675 tons;
• Breakbulk cargo up 24.2 percent to 311,940 tons; and
• Liquid bulk cargo up 10.2 percent to 3,066,462 tons.