Port Everglades Invests in Capacity Evolution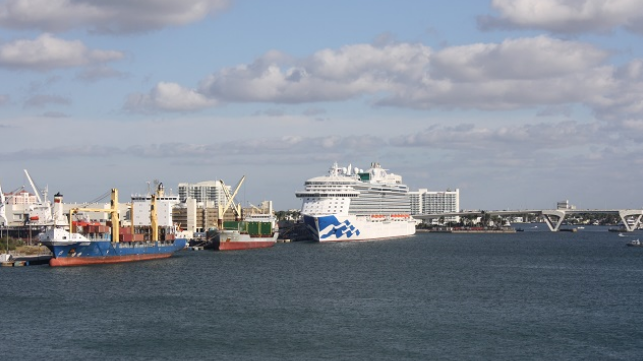 Construction is underway on new infrastructure projects at Port Everglades as part of the Broward County, Florida, port's commitment to maintaining and enhancing its operations.
Established as a deepwater harbor in 1927 by the Florida State Legislature, the port is today one of the busiest ports in the world. In its last fiscal year (ended September 30) more than 3.8 million passengers passed through Port Everglades as well as 25 million tons of waterborne cargo and nearly five billion gallons of petroleum.
"With the way things are going in this industry, it's a constant evolution, and our series of investments are intended to position ourselves to stay ahead of the curve," says Steven Cernak, Port Everglades Chief Executive and Port Director. He explains, "In this business, you have to think 15-years or more ahead."
Cruise Facilities
The port is currently investing more than $100 million for a complete makeover of Cruise Terminal 25 and the surrounding area. The first phase of the project included demolishing Cruise Terminal 22/24, which was previously used for baggage and customs clearance, and large parts of the existing Terminal 25, which was originally built in 1992. Replacing it will be a new cruise terminal that will improve passenger and baggage flow.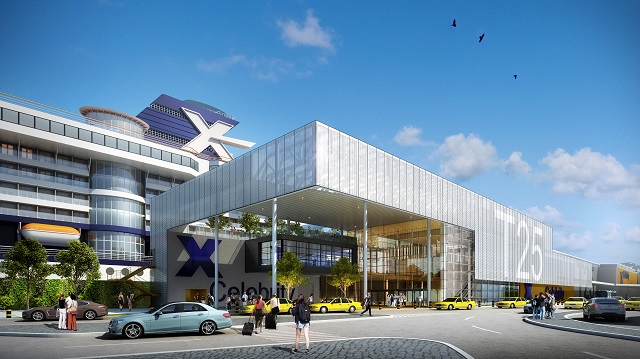 The plan developed by Bermello Ajamil & Partners creates new facilities for the U.S. Customs and Border Protection federal inspections services, adds a second-floor check-in and waiting areas, VIP facilities and new passenger loading bridges. A new baggage annex building will handle the collection and processing of luggage while outside there will be significant improvements in the traffic circulation for arriving and departing passengers.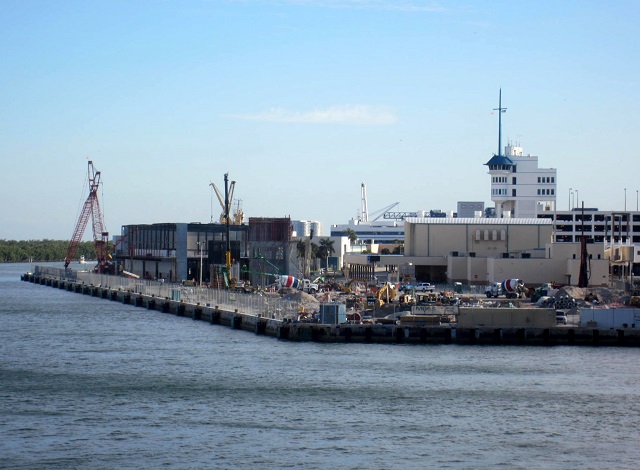 Credit: Allan E. Jordan
Due to be completed in the fall of 2018, Cruise Terminal 25 is part of a new long-term agreement with Royal Caribbean Cruises and will become the home of the new 2,908-passenger Celebrity Edge. Under the agreement, Cruise Terminal 25 will be a preferential berth for Royal Caribbean and Celebrity Cruises, in addition to Terminal 18, where Royal Caribbean's Oasis-class ships have docked since 2009. The agreement continues through to September 30, 2026, with options to extend the terms for an additional four years, followed by an additional five years.
The new terminal joins other enhances to the port's cruise facilities. An $18-million project lengthened Slip 2 by 225 feet so that larger cruise ships, up to 1,100 feet, can now dock at Cruise Terminal 4 without extending into the Intracoastal Waterway. Completed in November 2017, the newly extended berth is currently primarily used by Carnival Cruise Line.
Carnival Corporation also made a multi-million-dollar investment in technology and aesthetics at Cruise Terminal 2 including a new movie theater and more comfortable pre-boarding. The terminal's infrastructure was also retrofitted with new computing devices, sensors, cables, portals and access points, as well as new high-speed WiFi network, all to support the Ocean Medallion interactive wearable technology for passengers currently deployed by Princess Cruises.
New wayfinding signage that combines functionality with art is also due to be installed around the port for the 2018-2019 cruise season. Plans are also being developed for the construction of a new 1,800 space parking garage structure west of Terminal 4 targeted for completion in late 2019.
Cargo Infrastructure
Last year, Port Everglades set a new record for containerized cargo volumes with 1,076,893 TEUs, making it one of the top 10 U.S. container ports. It handles significant volumes of refrigerated produce, large quantities of apparel, tile, beverages and is seeing growth in machinery and automotive parts. More than 122 million barrels of petroleum also passed through the port in FY 17, accounting for about one-fifth of Florida's energy requirements.
In 2017, the Broward County Board of County Commissioners approved purchasing three low-profile Super Post Panamax container-handling gantry cranes and an option for the seaport to purchase an additional three cranes anytime within five years of placing the order for the first three cranes. Future projects also call for the expansion of the Southport container area as well as an extension of the Southport Turning Notch to create a new cargo berthing area. In the Northport, expansion of Slip 1 is currently in the design phase.
Planning is also proceeding on a longer-term project to deepen the main navigational channels from 42 feet to 48 feet and to deepen and widen the Entrance Channel and parts of the Intracoastal Waterway. Construction is expected to be completed early in the next decade on these navigational improvements designed to accommodate new, larger ships and ensure that these cargo ships can safely pass by docked cruise ships.