Port Everglades Gets Go-Ahead for Dock Expansion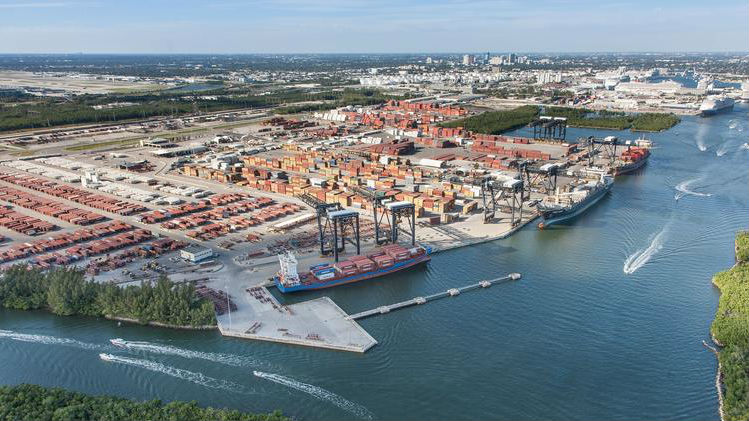 On Tuesday, Port Everglades received unanimous approval from Broward County's board of commissioners for a $438 million project to add new berths and install crane rails for new Super Post-Panamax cranes. The project is the most expensive capital improvement agreement awarded in the port's history.
Currently, Port Everglades is berth-constrained and additional dock space for cargo ships is needed, especially as the port has become Florida's leader for containerized cargo volumes. The Southport Turning Notch Expansion (STNE) project will lengthen the existing deepwater turn-around area for cargo ships from approximately 900 feet to 2,400 feet, which will allow for up to five new cargo berths. The existing gantry crane rails will be extended to the full length of the extended Turning Notch berth to utilize the existing cranes. A separate agreement to purchase three new Super Post-Panamax STS cranes with an option for up to three more will be presented to the county commission next month.
"The Southport Turning Notch Extension was identified as a critical project in our 2006 Master/Vision Plan. We will now be able to meet the demands of our current customers and work with them to grow their businesses, in addition to providing the infrastructure necessary to attract new customers," said Steven Cernak, Port Everglades CEO and port director.
A critical part of the STNE includes replacing nine acres of an existing mangrove conservation easement with 16 new acres of mangrove and wetland habitat, a project that is now completed. Port officials worked closely with port users, the environmental community, and the Florida Department of Environmental Protection to develop the plan for the new habitat.