Port Canaveral Awards $109M in Contracts for New Cruise Terminal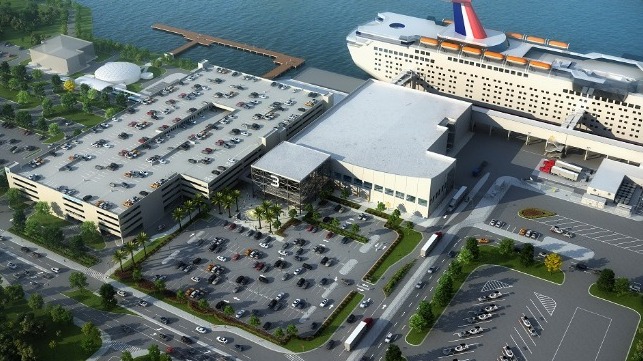 On Tuesday, the Canaveral Port Authority's board of commissioners approved two contracts worth a combined $109 million for the port's Cruise Terminal 3 project and an adjacent 1,800-vehicle parking garage.
Ivey's Construction, Inc. won the award to build the two-story, 188,000-square-foot terminal, the centerpiece of what will be the Port's largest ever construction project. The $163 million complex will become the home port for Carnival Cruise Line's largest cruise ship, the future Mardi Gras, when it opens in 2020. The 180,000-ton "XL-class" Mardi Gras will have a maximum capacity of 6,500 passengers and about 2,000 crew members, and she will be the first North American cruise ship powered by LNG.
The cruise terminal complex will be financed using a mixture of public and private funds. The port's commission has approved a $117 million bond issue for the terminal, supplemented with a $6 million grant from the state of Florida, and Carnival will contribute $50 million as part of a long-term agreement with the port.
A five-member Port Canaveral selection committee picked Ivey's bid for the cruise terminal base on pricing and construction schedule. The company also won the parking garage contract, as its bid was the only one submitted. Because both bids exceeded the original project estimates, the port is looking at ways to reduce costs while still meeting the original design intent.
"We're creating a world-class cruise terminal, and with these contract awards, the project is mobilizing and moving ahead," said port CEO Captain John Murray in a statement. "We are confident that this state-of-the-art facility will be constructed on schedule and on budget."
Contractor RUSH Marine is already working on the waterside construction of the terminal's new berth. Its construction crews are demolishing the existing pier structures at the site and installing barriers to prevent erosion from wake and wave action. The $39 million project is expected to be completed in December 2019.