Port Arranges Containers to Welcome Mega-Ship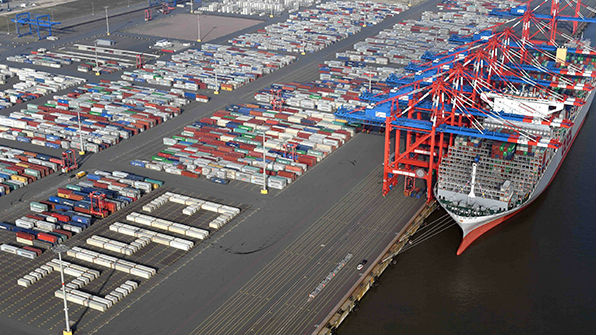 The OOCL Germany docked at Germany's Eurogate Container Terminal in Wilhelmshaven for the first time on Monday and was greeted by containers arranged to display her TEU capacity.

Eurogate employees arranged containers on the container stowage area near the berth to form the number 21,413.
"Although we are witnessing the world's largest container vessels at Wilhelmshaven on a weekly basis, each occasion is still something very special," says Mikkel Andersen, Managing Director of Eurogate. "We are delighted that the world's largest container ship, with a capacity of 21,413 TEUs, is calling at Wilhelmshaven. We see this as a sign that our customer OOCL is very happy with the performance of the container terminal."
The OOCL Germany is the second in a series of six ships in OOCL's G class, and the terminal already welcomes sister ship, the OOCL Hong Kong. The OOCL Germany operates on the Asia-North Europe Loop 1 (LL1) and departed from Wilhelmshaven for Felixstowe on Monday night.

Eurogate is Germany's only deep-water port.