Ponant Takes Aim at the North Pole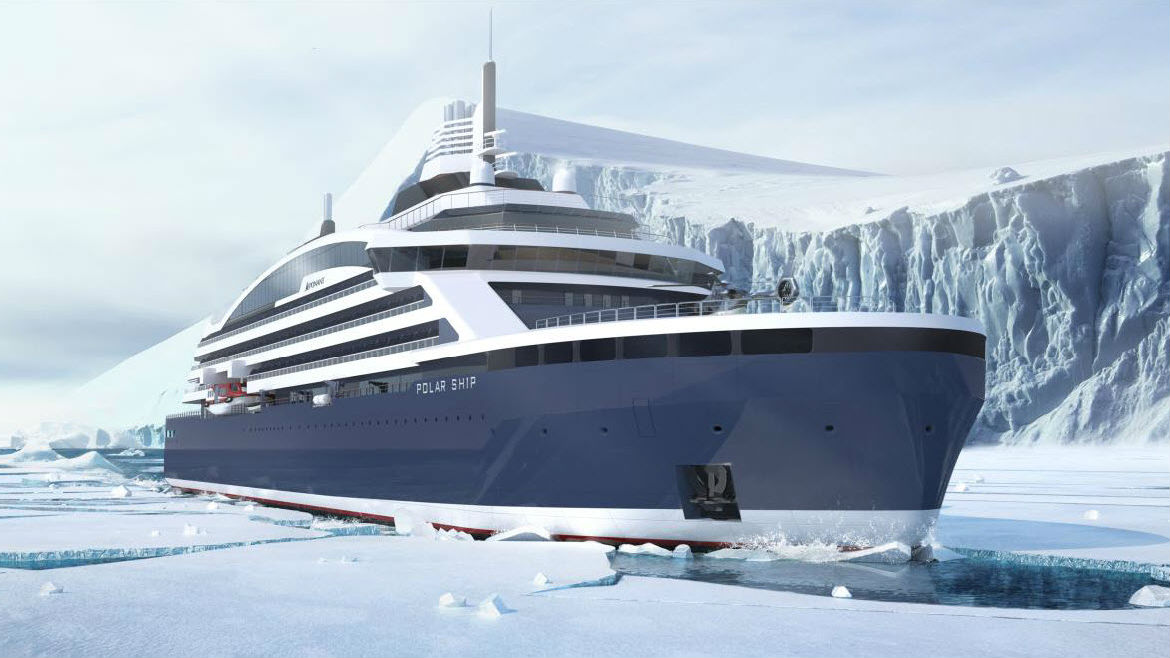 French cruise company Ponant has ordered a hybrid-electric, LNG-fuelled icebreaker/cruise ship from Vard that it intends to take to the North Pole.
The Polar Class 2 icebreaker's design has been developed by Ponant, Stirling Design International, Aker Arctic and Vard. The vessel is specifically designed to take passengers to polar destinations such as the true geographic North Pole (90 degrees North Latitude), the Weddell Sea, the Ross Sea and Peter I Island.
The Ponant Icebreaker will be the first electric hybrid cruise icebreaker with dual fuel propulsion, featuring high-capacity batteries and LNG storage on board. She will be approximately 30,000 gross tons, about 150 meters (492-foot) long, 28 meters (92-foot) wide and will have a cruise speed of 15 knots in open water. The vessel can accommodate 270 passengers in 135 staterooms, in addition to a crew of 180 people. She will also be equipped with two helicopters in in-house hangars.
Nicolas Dubreuil, Head of expedition at Ponant, says: "With this extraordinary tool for exploration we are going to have available, we are working with a brand new concept in travel. The Ponant Icebreaker is going to enable us to visit places previously unexplored until now due to their extreme remoteness. I've already imagined winter expedition cruises across the Nunavut ice field, and to Greenland, to get within close proximity of the Inuit camps.
"Our passengers will be able to leave the ship and go out onto the ice for an immersive experience of this hunting people's way of life. Similarly, we will also be able to get up close to the emperor penguins that inhabit the ice shelves in the Antarctic. As for the Geographic North Pole, it will no longer be an inaccessible dream. Ponant will soon have at its disposal the very first passenger ship capable of reaching this mythical destination."
The contract value for the construction of the vessel is worth approximately NOK 2.7 billion ($320 million). The hull will be built at Vard Tulcea in Romania. Delivery is scheduled from Vard Søviknes in Norway, in the second quarter of 2021. Ponant has four other vessels under construction.
Currently, only Russian nuclear powered icebreakers sail to the North Pole with passengers. Several voyages are run from Murmansk each season. However, the vessels' primary mission is to break ice for shipping along the Northern Sea Route, not tourism.
Hurtigruten has ordered two new 259-foot polar expedition cruise vessels. The Roald Amundsen and Fridtjof Nansen will feature hybrid propulsion using batteries, but they will not also be LNG-fuelled like Ponant's icebreaker. Hurtigruten's vessels are being built by Kleven Yards and are due for delivery in 2018 and 2019.