Pollution Abatement Concludes for the Wreck of the Grande America
Deep ocean search company Ocean Infinity announced Tuesday that it has finished its work on the wreck of the con/ro Grande America, which caught fire and sank in the Bay of Biscay on March 12.
Using its fleet of AUVs to locate the wreck and its ROVs for close-up imaging, Ocean Infinity has been conducting a program of inspection and operations under contract to Ardent, the appointed salvor for the America. The Ocean Infinity team deployed aboard the vessel Island Pride, which had been in port at Gibraltar and close to the scene. The team's imagery and data revealed that the Grande America had come to rest in an upright position on a sandy bottom, according to Commander Riaz Akhoune, a spokesman for French marine safety authority PREMAR Atlantique.
At the end of March, French authorities said that only a "slight iridescence" of pollution remained on the surface above the wreck site. Ocean Infinity's main task at the wreck site was to identify the source of these residual leaks and plug them, according to Akhoune.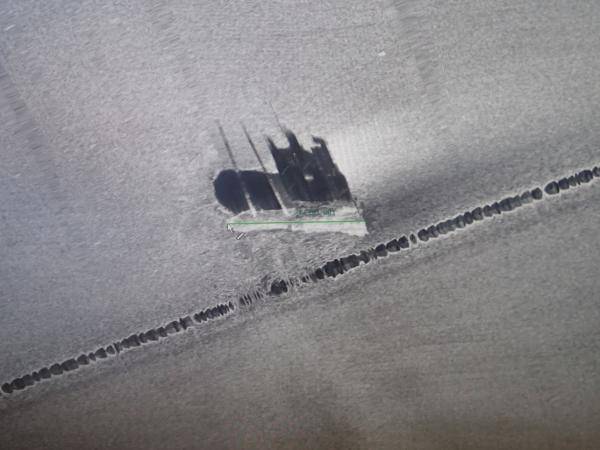 The Grande America as seen with sonar (PREMAR Atlantique)
Vent closure (PREMAR Atlantique)
"These were oil leaks that had been coming from several vents . . . It was therefore necessary to find a way to close these vents," he said. "The robot plugged the holes and screwed plates on top. This is the first time that this type of operation is carried out with a robot at 4,600 meters deep, at least in the Atlantic."
With containment finished, the at-sea cleanup effort has been declared complete, and the French and Spanish pollution control vessels that were deployed to recover bunker fuel from the surface have now returned to port. Some clumps of heavy fuel oil may still wash ashore, Akhoune told 20 Minutes, but large-scale pollution is not expected. French air assets will continue to monitor the area, and the French government will use the European Maritime Safety Agency Cleanseanet satellite system in order to verify the absence of oil at the site over the long term.