Photos: Maersk Honam's Stern Loaded for Transport
The undamaged half of the container ship Maersk Honam has been loaded onto a heavy lift vessel for transport to Geoje, South Korea, where it will be incorporated into a new hull.
The 100,000 dwt semi-submersible heavy lift ship Xin Guang Hua took the stern half of the Honam on board with the assistance of several harbor tugs, and it has since departed Jebel Ali. Maersk anticipates that the Hua and her cargo will arrive in March, and expects that the repairs will be completed before the end of the year.
The remaining portions of the former ship - including the accommodations block and the fire-damaged bow - were removed at Drydocks World Dubai, and will be scrapped.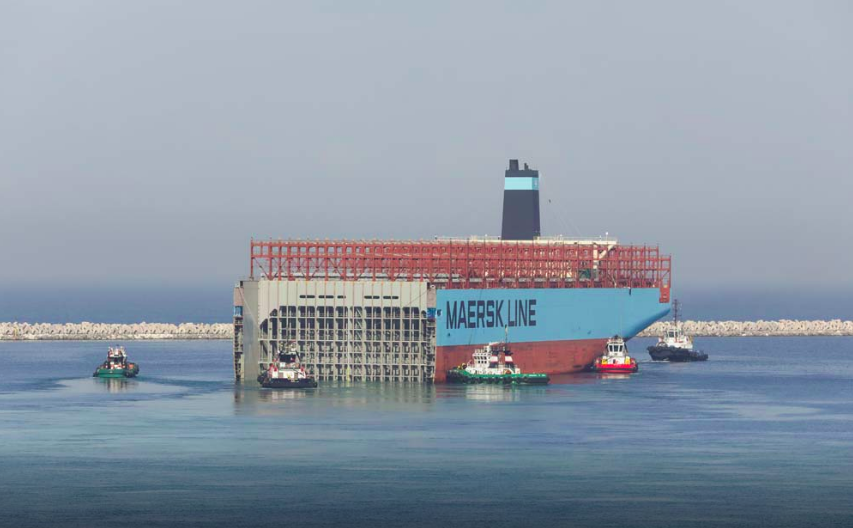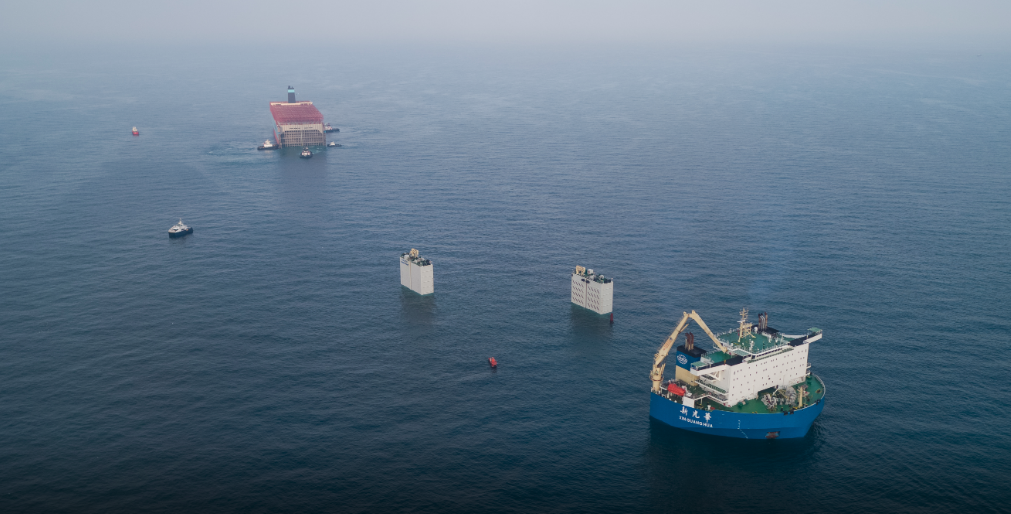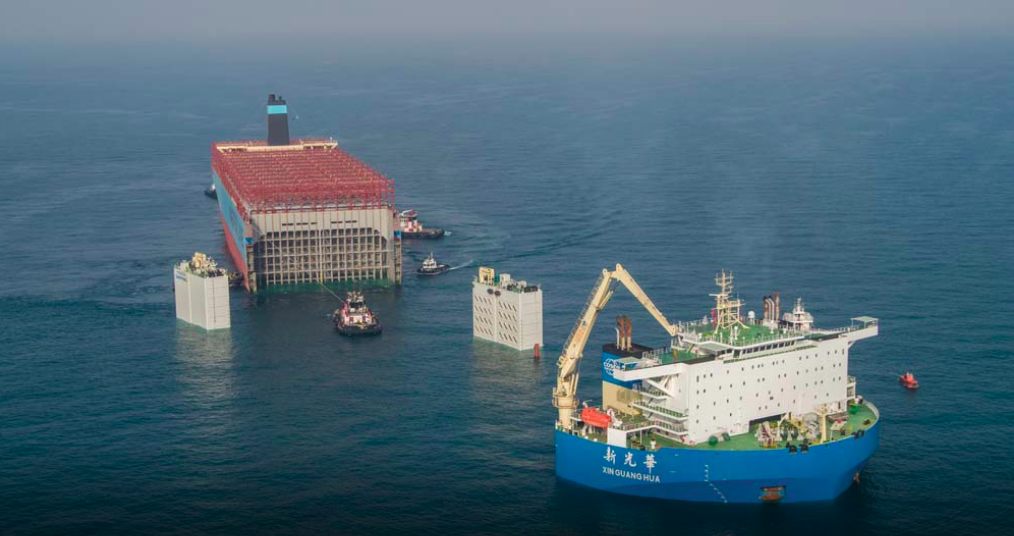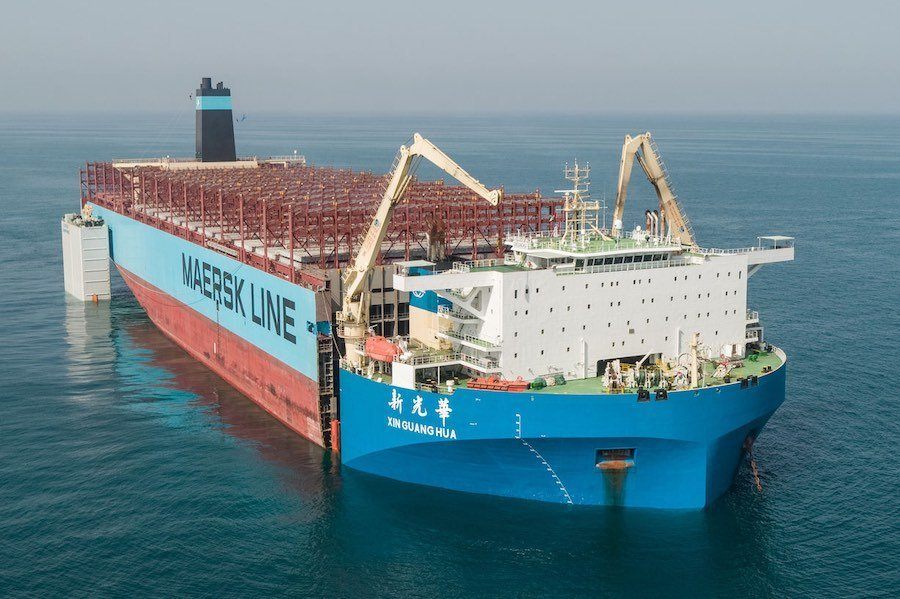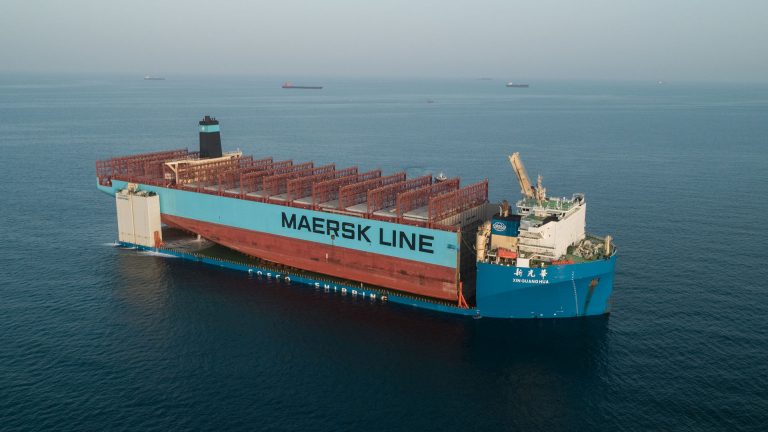 All images courtesy Maersk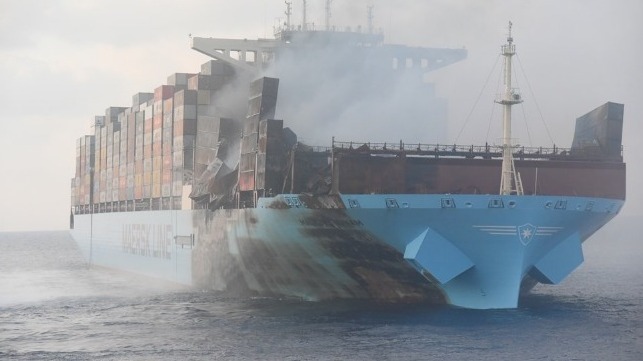 The Honam after the fire (Image courtesy Indian Coast Guard)
On March 6, 2018, as the Maersk Honam was under way off the coast of Oman, a fire broke out in a cargo hold forward of the wheelhouse. Five crewmembers died in the blaze that followed, and an unspecified number were injured. Salvors fought the fire for weeks after as the Honam drifted in the Arabian Sea.
Once most hot spots were extinguished, salvage tugs towed her through the Strait of Hormuz to Jebel Ali, where she arrived in mid-May. To retrieve surviving containers, cargo owners had to pay a hefty salvage security of 42.5 percent, plus a general average deposit of 11.5 percent and the cost of onward transport.
The 15,000 TEU Honam was carrying about 8,000 containers at the time of the fire, including an unspecified quantity of dangerous goods. Maersk has said that all cargo on board was stowed in accordance with the IMDG code, and has since instituted random physical checks (in U.S. ports) to verify that "cargo descriptions match actual contents of the container." The company has also instituted new guidelines on the locations where properly-declared dangerous goods may be stowed on board.