Photos: Gates for World's Largest Sea Lock Headed for Amsterdam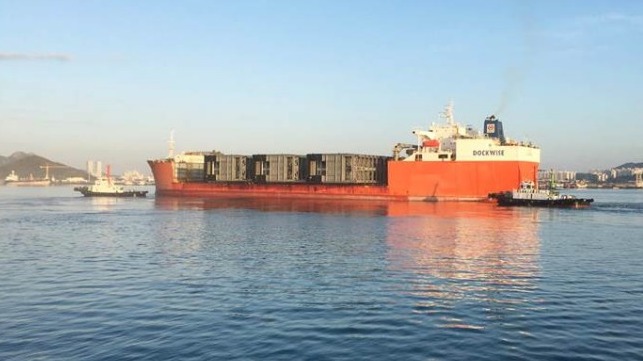 The approaches to Amsterdam will soon feature the largest set of sea locks in the world. The new lock chamber at IJmuiden on Holland's North Sea Canal will measure more than 1,600 feet long, 230 feet wide and 60 feet deep (with somewhat smaller working limits for vessel size).
The three massive steel gates for this lock measure 235 feet long, 80 feet tall and 36 feet thick each, and they weigh about 2,900 tonnes. All three are now under way from South Korea to the Netherlands aboard the heavy lift ship Talisman. Two will be used for the inner and outer locks and one will be held in reserve.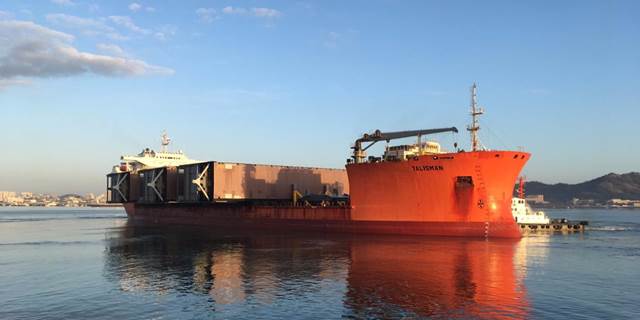 In preparation for the gates' arrival, contractors have begun an operation to sink the lock gate chamber of the outer lock head. The process involves intentionally washing sand out from underneath the massive, concrete lock gate chamber in a controlled manner, sinking it into the seabed like a caisson.
A consortium made up of construction firms BAM-PGGM, VolkerWessels and DIF is building the lock for Netherlands public works ministry Rijkswaterstaat on a $570 million contract. The project was slated for completion by 2020, but Rijkswaterstaat says that the project has been delayed by 27 months, with a cost overrun of about $35 million. Initial operations are now expected in early 2022.