Philippines Predicts "Certainty" of Joint Patrols With US Coast Guard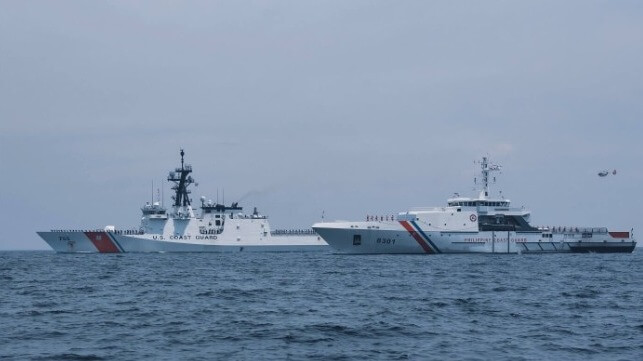 On Monday, a top Philippine Coast Guard spokesperson said that the U.S. and the Philippine government are closing in on an agreement to set up joint coast guard patrols in the South China Sea.
Commodore Jay Tarriela, a senior PCG advisor, told CNN Philippines that there is "a certainty for [these] particular joint patrols to happen," though no timetable has yet been set.
"This is not in the infancy stage. There is already clear path of possibility since the defense department of the United States has also supported the joint patrol with the Philippines Navy and the U.S. Navy," Tarriela said.
Coast guard patrols could be viewed as less provocative by China, which claims a large swathe of the Philippine EEZ and has "aggressively" pushed back on Philippine interests in the Spratly Islands.
Tarriela highlighted the PCG's limited capabilities for long-range offshore patrols in the Spratly Islands, where its presence is spread thin. In response to incursions by Chinese vessels - at times numbering in the hundreds - the PCG has only three patrol vessels capable of extended deployment, he said. (The PCG has 18 smaller patrol ships, but these have more limited loitering time.)
"It is very important for us to have offshore patrol vessels because these are the types of vessels that can last for more than 10 days at sea," he said. The U.S. Coast Guard has donated three former Hamilton-class long range cutters to Manila, but these have all been adopted by the Philippine Navy rather than the PCG.
The news comes against a backdrop of growing tensions between China and other claimants in the Spratly Islands. The government of the Philippines asserts that Chinese forces routinely interfere with Philippine fishermen and with PCG vessels, including a recent lasing incident at Second Thomas Shoal.
"This is the situation but on a day-to-day basis there are still many . . . cases of harassment or land reclamation which, in many cases, have been depriving the Philippines of the use of our exclusive economic zone," said Foreign Affairs Secretary Enrique Manalo at a security conference Monday.
Tensions are also running high between Washington and Beijing. The U.S. accuses China of dispatching a high-altitude spy balloon on a flight through U.S. sovereign airspace, a charge Beijing denies. U.S. Secretary of State Anthony Blinken has also warned China against providing arms to Russia for use in the ongoing invasion of Ukraine; U.S. ambassador to the UN Linda Thomas-Greenfield recently described the provision of lethal weapons to Moscow as a "red line" for the United States government.