Peru Publishes Fishing Vessel Tracking Data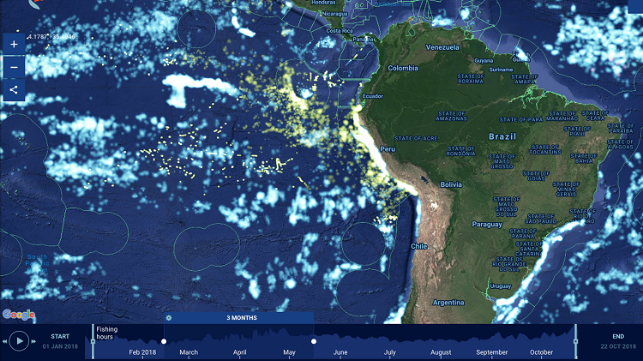 Peru has made its national vessel tracking data publicly available for the first time through Global Fishing Watch (GFW). The data on Peru's commercial fishing vessels is now freely available on GFW's map platform, in near real time. At least 1,300 of Peru's industrial fishing vessels are now visible on the public map.
The aim of GFW, is to aid national monitoring and control efforts to combat illegal, unreported and unregulated (IUU) fishing. GFW uses publicly broadcast AIS data to track fishing vessel movements. While AIS is required for the largest vessels that catch a disproportionately large amount of fish, adding Vessel Monitoring System (VMS) data, which is required by many governments, to the GFW map provides an even clearer view of global fishing activity. Peru will also be using GFW's night-time imagery data to reveal brightly lit fishing vessels operating at night.
Peru is the world's second largest fishing nation after China and home to one of the world's largest single stock fisheries - the anchoveta. Oceana, a founding partner of GFW, has worked closely with the Peruvian government to bring about increased transparency of commercial fishing in the country's waters.
Indonesia, became the first country to make its proprietary vessel tracking data available via GFW in 2017, putting 5,000 smaller fishing vessels that do not use AIS on the GFW map. Peru is now the second nation to share its vessel tracking data via the platform. Its efforts come after the Canadian government's formal statement of support for the work of GFW at the G7 ministerial meeting in Halifax earlier this month, and their commitment to encourage better data sharing, improved science and invest up to $11.6 million to combat IUU fishing.