Pavilion Charters LNG Bunker Newbuilding for Singapore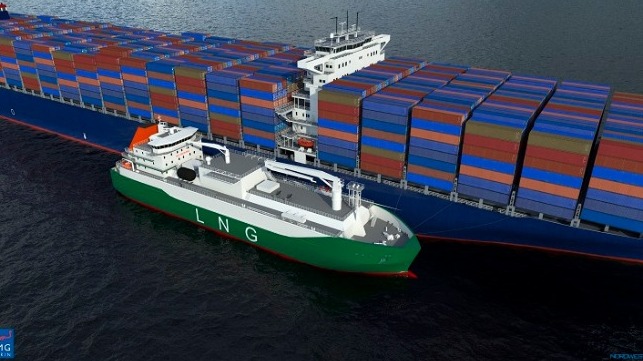 Pavilion Energy has chartered its first LNG bunker vessel to supply LNG bunkers in the Port of Singapore.
The 12,000 cubic meter membrane LNG bunker vessel, the largest LNG bunker vessel set for use in the Port of Singapore to date, will be owned by Mitsui O.S.K. Lines, Ltd. (MOL). MOL will be collaborating with Sinanju Tankers, a local bunker tanker operator in Singapore, to manage the dual-fuel vessel.
A S$3 million grant which was awarded to Pavilion Energy under the Maritime and Port Authority of Singapore's LNG Bunker Vessel Co-Funding Grant will go into the construction of the vessel. The vessel will be built in Singapore by Sembcorp Marine and is expected to be delivered in 2021.
The vessel fulfills requirements as an LNG feeder and bunker tanker for both coastal and short sea trade. The 112-meter (368-foot) long and 22-meter (72-foot) wide LNG bunker vessel will have two GTT Mark III Flex membrane tanks. The order makes the vessel the largest of its kind to be built locally, in terms of size and LNG tank capacity. It is also Sembcorp Marine's first LNG bunker vessel construction project. Sembcorp Marine will fabricate the vessel's unique membrane tanks under a licensing agreement with French LNG containment specialist GTT.
Compared to IMO Type 'C' LNG tanks, the superior Mark III Flex membrane tanks have lower internal pressure, temperature and boil-off rate; which translates into greater tank durability, safer fuel transfer operations and reduced cargo loss through evaporation. The Mark III Flex membrane tanks also weigh less and occupy less ship space, allowing the vessel to carry more cargo and consume less fuel during transportation.
For cleaner propulsion, the LNG bunker vessel will have dual-fuel engines running on LNG or marine diesel oil.
In June 2018, Pavilion Energy and Total agreed to co-share the utilization of the vessel and enable LNG bunker deliveries to both Pavilion Energy's and Total's marine fuel customers in the Port of Singapore.
To date, there are more than 140 LNG-powered vessels in operation with some 130 on order. As part of its plans to offer LNG bunkering, Singapore is co-funding the construction of eight LNG-fueled vessels including a pair of tugs which were delivered to Keppel SMIT Towage and Maju Maritime last year. Funding has also been extended to a a 7,900-dwt dual-fuel oil bunker vessel being built for Sinanju Tankers.