PacWave South Offshore Energy Project Moves Towards Completion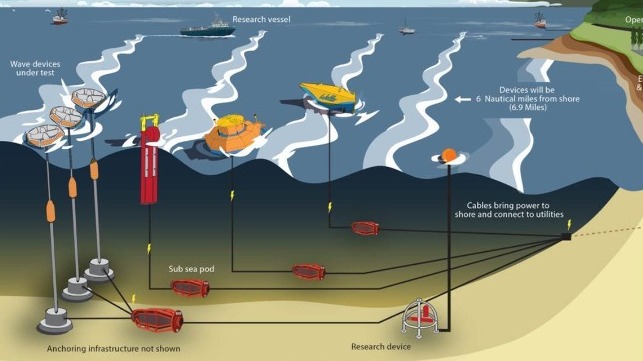 Oregon State University has has finalized the last of the major contracts needed to build out its PacWave South wave energy test site, the first utility-scale, grid-connected facility of its kind in the United States.
PacWave will be located about seven miles off Newport, Oregon, in an area little used by fishermen. It will have four "berths" for testing with room for up to 20 devices at a time. The berths will be linked back to shore with power and data cables connecting up to a shoreside landing point in the town of Seal Rock.
PacWave has just authorized the purchase of 50 miles of power cable, one of the biggest pieces of the project. Industrial contractor R.T. Casey is overseeing cable procurement and installation, and subsea cable company Nexans will complete the manufacturing at a plant in Norway.
With support from Oregon's congressional delegation, the FY2023 omnibus budget bill included $22 million to continue PacWave's construction.
"This good news adds up to a significant step forward for OSU's world-renowned research into the marine energy that will play such a key role in the energy mix of the future," said U.S. Sen. Ron Wyden (D-OR). "I'm proud to have teamed up with OSU to support the purchase of subsea cables and begin construction."
Now that the contracts are signed, the cables should be delivered and installed by mid-2024. Local contractor Gerding Builders will construct the shoreside facility for grid interconnection, and work will begin this spring. PacWave South's connection to the power grid will give wave energy startups a chance to test out their devices in a real-world application, including the systems needed to turn wave power into a commercial energy product.
BOEM and FERC have approved all site permitting, and work has already been completed on horizontal drilling to install cable conduit. The full $80 million project should be ready and operational by 2025.
Since there are no other facilities like it in the United States, interest has been strong - especially since federal pre-approval for site use will allow wave energy developers to test their techology without going through a years-long permitting process. Eligible wave energy developers for the site have already been identified and funded by the U.S. Department of Energy.
"We have also had a number of other companies reaching out to see when we might be ready for them to use the testing facilities," said Burke Hales, PacWave's chief scientist and a professor in the OSU College of Earth, Ocean, and Atmospheric Sciences. "Interest in wave energy is really picking up."