Over 500 Sick; Cruise Ship Returns to Port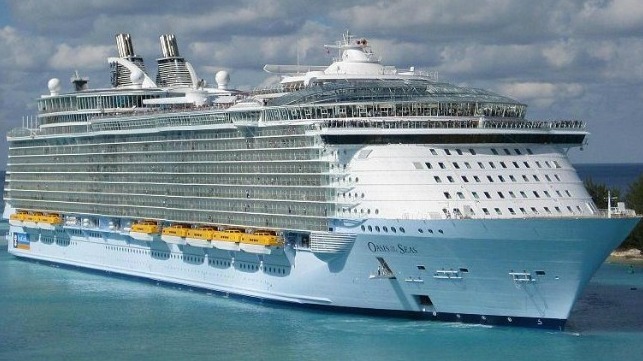 The U.S. Center for Disease Control and Prevention reports that 561 people have reported ill on Royal Caribbean International's Oasis of the Seas. The vessel's itinerary has been cut short, and she has returned to Port Canaveral in Florida.
The number of passengers reported ill and vomiting is 8.91 percent of the 6,285 on board. The number of crew who have reported being ill during the voyage is 31 of 2,169 (1.45 percent). As yet, the causative agent is unknown.
The vessel departed January 6 on a tour of the Caribbean. Some passengers reporting sick shortly afterward departure and she returned to port and docked on Saturday. The cruise line has announced a full refund for passengers. The crew will disinfect the vessel before new passengers embark on January 13.
The Center for Disease Control and Prevention states that traveling on cruise ships exposes people to new environments and high volumes of people, including other travelers. This exposure can create the risk for illness from contaminated food, or water or, more commonly, through person-to-person contact.
The Center recommends:
If you're sick, report your illness.
Before your voyage:
Ask your cruise line if there are alternative cruising options.
Consult a doctor to find out whether it is safe for you to sail.
During your voyage:
Call the ship's medical facility and follow the medical staff's recommendations.
Wash your hands often!
Why: Avoid exposing yourself and others to anything that may cause illnesses and spread germs.
When: Wash your hands often but especially after using the toilet and before eating or smoking.
Take care of yourself.
Get plenty of rest and drink plenty of water. Why: Resting helps rebuild your immune system. Drinking water helps prevent dehydration.
Leave the area if you see someone get sick (vomiting or diarrhea).
Report it to cruise staff if they are not already aware.