One of Last Remaining PT Boats Will Be Restored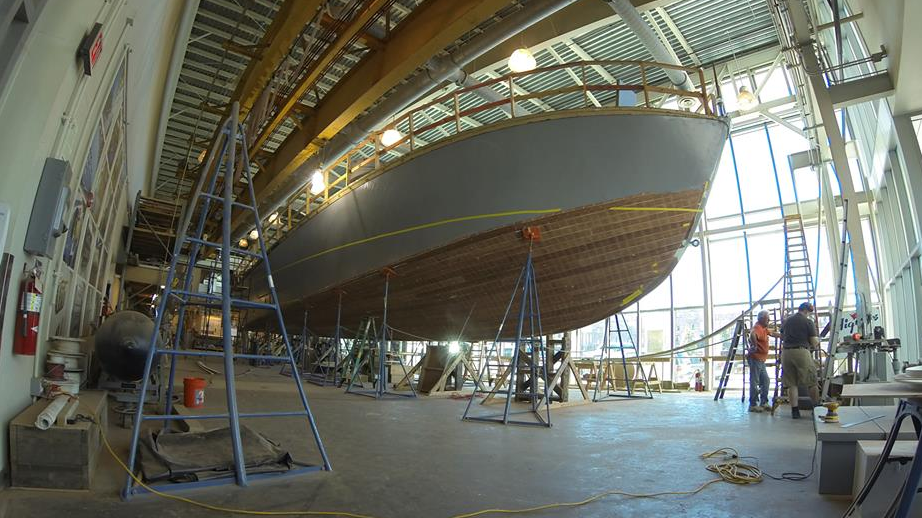 One of the handful of remaining wooden PT boats, made famous by their service in the Pacific in WWII, is being restored in an all-volunteer effort by the National WWII Museum.
PT-305, built by Higgins Industries in New Orleans, was deployed in World War II in the Mediterranean Theater; she entered commercial service as a tour boat and a workboat after the war.
"Virtually everything has to be remanufactured," said Bruce Harris, restoration coordinator on the project. "We're using the same materials as used originally,"
He said that as many as 30 to 40 volunteers show up to work on the project on the weekends, and they hail from all walks of life – from naval architects to students to small business owners.
"We're finding that the as-built vessel deviated quite a bit from the design," said a volunteer.
And finding spares for her three supercharged Packard aircraft engines is not as simple as it might be for a small-block V-8. "We could take one apart, put it back together in 6 to 8 weeks if we had new parts. But every part you take off of it, you have to recondition it . . . and if you can't find it, you have to make it."
There are only a few remaining PT boats in the United States, and only one is presently functional. PT-658, based in Portland, Oregon, was restored to original plans by a group of PT boat veterans in the 1990s. She is on the National Register of Historic Places.
Including all vessel types and experimental models, nearly 800 boats bearing the PT designation were built between 1939 and 1945. They saw service all over the world, but are perhaps best known for action in the Pacific Theater, where they disrupted Japanese supply shipments in shallow waters where larger naval vessels could not go, conducted reconnaisance and carried out night attacks.
The boats were valued for their maneuverability, speed, and low cost of construction; their wooden hulls and small size freed up space at larger naval shipyards, too, as smaller boatbuilders took on the task of sending them down the ways.
Famous PT boats included PT-41, which led a squadron of boats to carry General Douglas MacArthur, his family and his staff from Corregidor Island as Japanese forces advanced. They evaded a Japanese cruiser and safely transported the officers to Mindanao. Lieutenant John Bulkeley received the Medal of Honor for his leadership in the evacuation
PT-109, under the command of future president Lieutenant John F. Kennedy, was rammed and sunk by a Japanese warship in the Solomon Islands. Her eleven surviving crew took shelter on a nearby island and were rescued with assistance from local coastwatch members.