Oil Washes Up on Shore Near Site of Sanchi's Sinking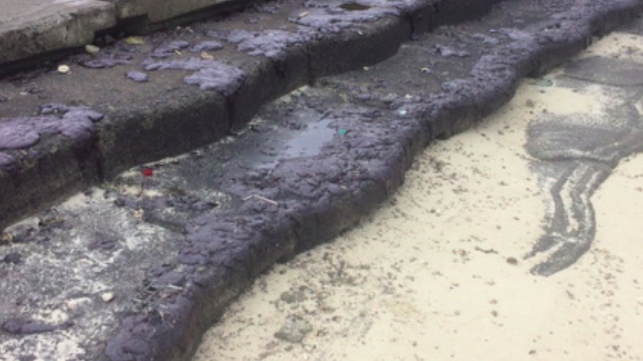 On Friday, Dr. Paul Johnston of Greenpeace's International Science Unit warned that petroleum pollution on the island of Takarajima could have come from the tanker Sanchi, which exploded and sank last month in the East China Sea. The Japan Coast Guard and the prefecture of Kagoshima have both confirmed the arrival of a black, oily substances on the island's beaches. If true, it would be the first confirmed instance of pollution from the disaster reaching shore.
"It appears that the island of Takarajima is in one of the higher risk areas predicted by the National Oceanography Centre (NOC) and at this stage it seems likely that the oil we are seeing [in the media] is from the Sanchi," Johnston said in a statement. "It may be emulsified bunker oil, but it may also be heavy residue from the condensate: it will be impossible to tell until testing is done. Cetaceans and birds are at high risk of exposure, and fish may be contaminated as well."
Johnston cautioned that the oil on the beach would have to be "fingerprinted" against a sample from the site of the sinking in order to confirm its origin. He called on the agencies involved in the response to step up the scale of spill monitoring efforts, and he warned against the use of dispersants except as "an absolute last resort."
Cleanup operations are under way on shore at Takarajima, and Japan's Cabinet Office said Friday that it has set up a task force to monitor the spill.
The Sanchi had about one million barrels of natural gas condensate on board when she collided with a bulker on January 6, and she burned for seven days before going down. An unknown amount of her cargo was consumed in the blaze, but it was likely the largest ever release of condensate into the marine environment.
Condensate is a mixture of light petroleum liquids that are extracted from "wet" natural gas. Its composition varies, but it typically contains some amount of benzene, a known carcinogen, along with other aromatic hydrocarbons. It is less dense and much more likely to dissipate than crude oil, but it is toxic to marine life.