Offshore Supply Base Planned for Newfoundland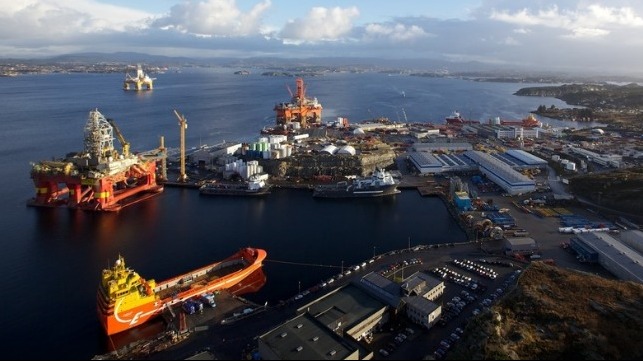 A new company, Canadian Supply Base Company, is gathering resources and participants for the development of a proposed multi-user, one-stop-shop port cluster at Bull Arm, Newfoundland. The offshore supply base would incorporate supply services, subsea services and fabrication and an industrial estate for supply and service companies. This would include warehousing, laydown areas, bulk and marine gas oil facilities.
NorSea Group and and Integrated Logistics announced the establishment of Canadian Supply Base Company (CSBC) in November 2017. The companies say that CSBC benefits from NorSea Group's expertise in developing integrated supply and service centers to support the offshore oil and gas sector, and Integrated Logistics' expertise in managing marine projects in the Canadian business environment.
The type of port cluster proposed for Bull Arm would be similar to those operated by NorSea Group in Norway and those supporting offshore areas like the Gulf of Mexico. These clusters can host over 50 companies permanently employing more than 2,500 people, in addition to project teams associated with large-scale fabrication projects.
The Provincial Government recently released Advance 2030 – A Plan for Growth in the Newfoundland and Labrador Oil and Gas Industry. CSBC believes its proposed center could be a key driver in achieving the supply chain objectives established in the report.
By 2030 the Provincial Government envisions:
• Over 100 new exploration wells drilled;
• Multiple basins producing over 650,000 barrels of oil equivalent per day;
• Shortened time from prospectivity to production;
• Direct employment of more than 7,500 people in operations;
• A robust, innovative global supply and service sector;
• Commercial gas production; and
• Renewables and oil and gas integrated in a world-class energy cluster.
Discovered in 1979, it has been 20 years since first oil was produced from the Hibernia project and the projected field life has been extended beyond 2040. The Hebron oil field, discovered in 1980, achieved first oil in 2017 and is expected to produce more than 700 million barrels of oil. In May 2017, Husky Energy and its partners announced they were proceeding with the West White Rose Extension Project with first oil expected in 2022 and an extension of the Terra Nova field is anticipated.
However, Relative to other offshore jurisdictions, such as the U.K. and Norway, Newfoundland and Labrador remains relatively unexplored. Less than seven percent of the region's 1.5 million square kilometers of offshore area have been licensed. The undiscovered resource potential for the province's offshore is even larger. Recent studies in 2015 and 2016 by BeicipFranlab, on behalf of Nalcor Energy, estimate undiscovered resources of 37.5 billion barrels of oil and 133.6 trillion cubic feet of natural gas in call for bids parcels in the West Orphan and Flemish Pass regions. This represents only two of the over 20 offshore basins that have been mapped.
CSBC is presently in a competitive proposal process administrated by Nalcor; a process that began in March 2017 with an expression of interest.