Ørsted Tests Industry First Using Heavy Lift Drones at Wind Farms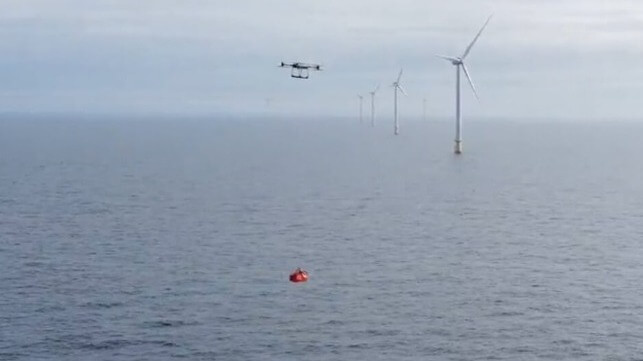 Ørsted is testing new methods to increase the efficiency of the maintenance operations at its offshore wind farms. The company's UK-based operation reports it completed the industry first with the use of "autonomous giant drones" to transport cargo to the turbines.
The company has previously highlighted the maintenance challenge as wind farms move further offshore. The company notes that with its Service Operating Vessels and crew transfer vessels it is able to have technicians onsite and keep basic spare parts available. However, when a specialized tool or spare part is required, it means either shuttling it out to the maintenance crew or one of the vessels going back to shore to obtain the necessary items.
They recently tested a massive drone with the ability to transport 68 kg (approximately 150 lbs.) of material. In the demonstration video, they show the drone carrying a satchel with the cargo, launching from the Edda Mistral, a purpose-built service operation vessel (SOV) for the offshore wind sector. The drone has a wingspan of 8.5 feet – the same as an albatross – and carries the cargo and drops it to the crew on the top of one of the 174 wind turbines standing more nearly 625 in height at the UK's Hornsea 1 wind farm.
???? Check out this giant drone gliding in the air above Hornsea 1 in the UK!

We've been testing it to explore how giant drones can be used for transporting cargo to #offshorewind turbines.

Discover more ???? https://t.co/w5sRwXd2N0 pic.twitter.com/9lF2SO8HiL

— Ørsted (@Orsted) October 30, 2023
Located near Hull and Grimsby, the Hornsea wind farm is located 75 miles off the Yorkshire coast in the North Sea. They highlight the ability to get cargo to the site or up to the top of the turbine without having to shut down the turbine when the cargo is delivered or requiring the crew to make multiple trips.
Ørsted highlights that it has been using small drones for some time, but that they only carried lighter loads. Earlier in the year, the company's operations in Denmark tested transporting spare parts from shore to the Anholt Offshore Wind Farm which is nearly 15 miles from the Danish coast.
The company believes that drones will make maintenance operations faster and more efficient. Reducing the number of trips, the vessels make back and forth also reduces emissions. Østed reports it is actively seeking partnerships with the best drone cargo operations and service providers to help grow the supply chain in the UK.