Ørsted Sets New Offshore Wind Target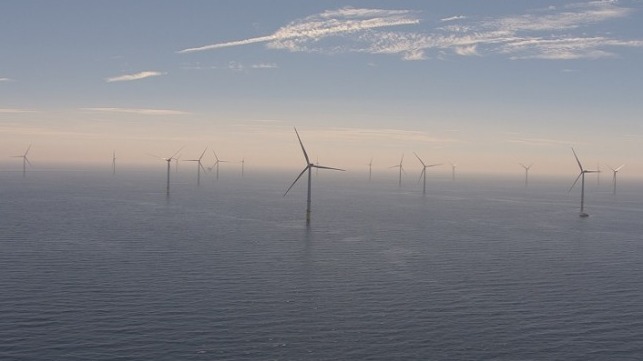 Energy major Ørsted has announced a new offshore wind target as part of a strategic plan approved by the company's Board of Directors. By 2025, the company wants to increase its offshore wind capacity from 11GW to 15GW.
CEO and President Henrik Poulsen says: "We expect the global market for renewable energy to more than triple towards 2030. As one of the leading companies within renewable energy, Ørsted has a strong platform to take part in this build-out."
The company's portfolio currently consists of 11.9GW of offshore and onshore wind farms and biomass-fired combined heat and power plants that are either in production, under construction or have been given final investment decision (FID). It also has projects with a capacity of 4.7GW awaiting FID.
Towards 2030, Ørsted aims to reach an installed capacity of more than 30GW, and the raised offshore wind target is an important part of reaching that goal. "We want to maintain our position as global market leader in offshore wind and continue our build-out in Europe, North America and Asia," says Poulsen.
From 2019-2025, the company expects total gross investments of approximately DKK 200 billion ($30 billion). Investments in offshore wind farms are expected to constitute 75-85 percent of this. Onshore investments are expected to constitute 15-20 percent.
Ørsted has won a series of offshore wind projects in competitive tenders since 2015 (Borssele 1&2, Hornsea 2, Gode Wind 3 and 4, German Cluster 1, Greater Changhua 1 and 2a and 2b and 4 and Revolution Wind).
In September, the company officially opened the world's largest operational offshore wind farm, Walney Extension. The Walney Extension windfarm, which is owned by Ørsted and its partners PFA and PKA, is the first project to use wind turbines from two different manufacturers: MHI Vestas and Siemens Gamesa. Walney Extension's 87 wind turbines can generate enough green energy to power almost 600,000 U.K. homes and became Ørsted's 11th operational offshore wind farm in the U.K.
Ørsted is working to cut the cost of electricity produced by offshore wind turbines, and currently it collects huge amounts of data from over 1,200 offshore wind turbines. Data from Horns Rev 1 (featuring 2MW wind turbines) and Anholt (featuring 3.6MW wind turbines) has been shared with selected universities to generate improvements in wind-flow modeling and monitoring of wind turbines.
Ørsted has now decided to also share data from Westermost Rough, which in 2015 became the world's first offshore wind farm to commercially deploy the Siemens Gamesa 6MW wind turbine. The universities that have access to data from Ørsted's offshore wind farms are DTU Wind Energy, University of Delaware, ETH Zürich, University of Southern Denmark, National University of Singapore, City University of Hong Kong, University of Brunei Darussalam and University of Bergen. The aim with sharing wind farm data with technical universities is to further improve wind farm design and inspire future engineers to join the green energy industry.