Ocean Alliance Unveils Day 3 Product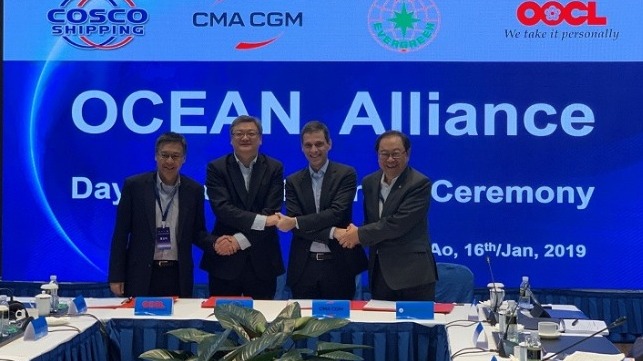 CMA CGM, COSCO SHIPPING, Evergreen and OOCL have announced the launch of their Ocean Alliance Day 3 Product starting April 2019.
The Group claims it will bring the largest service offer on the Transpacific trade with 19 services, a strengthened offer between Asia and Europe with the addition of a seventh service, a large offer between Asia and the Mediterranean with four services, two Transatlantic services linking North Europe to the East Coast of the United States and the Gulf of Mexico and two Asia-Red Sea services.
Additionally, it will be the only alliance offering four services between Asia and the Middle East.
Rodolphe Saadé, Chairman and Chief Executive Officer of the CMA CGM Group, says the new product bring the CMA CGM Group's clients an optimized offer through the use of around 330 container ships, 111 of which will be operated by the CMA CGM Group. It will involve 38 services with an estimated carrying capacity of around 3.86 million TEUs.
The Ocean Alliance was launched in Spring 2017. It's Day 2 product was launched in April last year and had an estimated carrying capacity of around 3.6 million TEUs.
Day 3 Product
Seven Asia - Europe services:
AEU1: Shanghai-Ningbo-Xiamen-Yantian-Singapore-SUEZ Canal-Felixstowe-Zeebrugge-Gdansk-Wilhelmshaven-Piraeus-SUEZ Canal-Port Kelang-Hong Kong-ShanghaiZ
AEU3: Tianjin-Dalian-Qingdao-Shanghai-Ningbo-Singapore--SUEZ Canal-Piraeus-Rotterdam- Hamburg-Antwerp- Rotterdam-SUEZ Canal-Shanghai-Tianjin
AEU7: Xiamen-Nansha-Hong Kong-Yantian-Cai Mep-Port Kelang-Suez Canal-Piraeus-Hamburg-Rotterdam-Zeebrugge-Felixstowe-Suez Canal-Singapore-Yantian-Xiamen
AEU2: Busan-Ningbo-Shanghai-Yantian-Singapore-Suez Canal-Algeciras-Southampton-Dunkirk-Hamburg-Rotterdam- Southampton -Le Havre-Malta-SUEZ Canal-Jebel Ali-Port Kelang-Xiamen-Busan
AEU6: Qingdao-Ningbo-Shanghai-Yantian-Cai Mep-Singapore-SUEZ Canal-Le Havre-Rotterdam-Hamburg-Antwerp-Le Havre-Algeciras-SUEZ Canal-Port Kelang-Nansha-Qingdao
AEU5: Kaohsiung-Qingdao-Ningbo-Shanghai-Taipei-Yantian-Tanjung Pelepas-SUEZ Canal-Rotterdam-Felixstowe-Hamburg-Rotterdam-SUEZ Canal-Colombo- Tanjung Pelepas -Kaohsiung
AEU9: Shanghai-Ningbo-Kaohsiung-Shekou-Colombo-SUEZ Canal-s-Antwerp- Hamburg-Rotterdam- SUEZ Canal-Port Kelang-Shanghai
Five Asia- Mediterranean services:
AEM1: Qingdao-Shanghai-Ningbo-Kaohsiung-Hong Kong-Yantian-Singapore-SUEZ Canal-Piraeus-La Spezia-Genoa-Fos-Valencia-Piraeus-SUEZ Canal -Colombo-Singapore-Hong Kong-Qingdao
AEM2: Qingdao-Tianjin-Pusan-Shanghai-Ningbo-Nansha-Yantian-Singapore-SUEZ Canal-Malta- Valencia- Barcelona -Fos-Genoa-Malta -Beirut-SUEZ Canal-Jeddah-Port Kelang-Xiamen-Qingdao
AEM3: Pusan-Shanghai-Ningbo- Xiamen-Shekou-Singapore-SUEZ Canal-Port Said -Beirut-Tripoli-Piraeus-Istanbul Evyap (Izmit)-Istanbul Ambarli (Avcilar)-Constanza-Odessa-Istanbul Ambarli (Avcilar) -Mersin-Port Said-SUEZ Canal-Jeddah-Port Kelang-Pusan
AEM5: Qingdao-Shanghai-Ningbo-Taipei-Yantian-Shekou- Tanjung Pelepas-Port Kelang-SUEZ Canal-Ashdod-Haifa-Alexandria-Mersin-Piraeus-SUEZ Canal-Jeddah-Tanjung Pelepas-Shekou-Kaohsiung-Qingdao
AEM6: Shanghai-Ningbo-Pusan-Shekou-Singapore-SUEZ Canal-Malta-Koper-Trieste-Rijeka-Venice-Koper -Malta –Port Said -SUEZ Canal-Jeddah-Port Kelang-Shekou-Shanghai
19 Transpacific services (with 12 Asia - West Coast North America services):
Eight Pacific Southwest services:
AAS2: Fuqing-Nansha-Hong Kong-Yantian-Xiamen- Los Angeles-Oakland-Fuqing
CEN: Tianjin-Qingdao-Shanghai-Ningbo-Prince Rupert-Long Beach -Oakland-Tianjin
SEA2: (AWE5)-Port Kelang-Singapore-Jakarta-Laem Chabang-Cai Mep- Los Angeles -Oakland-Hong Kong -(AWE5)
AAC2: Qingdao-Shanghai-Ningbo- Los Angeles -Oakland-Tokyo-Qingdao
AAS: Kaohsiung-Cai Mep-Hong Kong-Yantian-Kaohsiung- Long Beach –Kaohsiung
AAS3: Taipei-Xiamen-Shekou-Yantian- Los Angeles -Oakland-Taipei
AAS4: Yantian-Hong Kong-Kaohsiung-Taipei- Los Angeles -Oakland-Tacoma- Kaohsiung –Yantian
AAC4: Ningbo-Shanghai-Pusan- Long Beach -Pusan-Ningbo
Four Pacific Northwest services:
MPNW: Yantian-Xiamen-Ningbo-Shanghai-Pusan-Seattle-Vancouver-Yantian
CPNW: Hong Kong-Yantian- Ningbo- Shanghai-Prince Rupert-Vancouver-Yokohama-Shanghai-Hong Kong
EPNW: Yantian-Kaohsiung-Shanghai-Ningbo-Tacoma-Vancouver-Tokyo-Osaka-Qingdao-Yantian
OPNW: Shekou-Hong Kong-Yantian-Kaohsiung-Vancouver-Seattle-Pusan-Kaohsiung-Shekou
Seven Asia - East Coast North America and U.S. Gulf services:
AWE1: Qingdao-Ningbo-Shanghai-Pusan-Colon-Savannah-Charleston-Boston-New York-Colon-Qingdao
AWE2: Qingdao-Ningbo-Shanghai-Pusan-New York-Norfolk-Savannah-Qingdao
AWE3: Xiamen-Hong Kong-Yantian-Kaohsiung-Colon-Savannah-Baltimore-Norfolk-New York-Xiamen
AWE4: Cai Mep- Hong Kong-Yantian- Xiamen-Shanghai-Colon-New York-Savannah-Charleston-Cai Mep
AWE5: (SEA2)-Hong Kong-Cai Mep-Singapore-Port Kelang-Colombo-Halifax-New York- Norfolk- Savannah-Charleston- Port Kelang- (SEA2)
GME: Shanghai-Ningbo-Xiamen-Yantian-Houston-Mobile-Tampa-Shanghai
GME2: Singapore-Hong Kong-Shekou- Ningbo- Shanghai -Pusan-Houston-Mobile- New Orleans- Tampa-Miami-Singapore
Two Transatlantic services:
MENA (Non-OA loop): Fos-Genoa-La Spezia-Barcelona-Valencia-New York-Norfolk-Savannah-Miami- Algeciras-Fos
TAE: Southampton-Antwerp-Rotterdam-Bremerhaven-Le Havre-New York-Norfolk-Savannah-Charleston-Southampton
EAG: Le Havre-Antwerp-Rotterdam-Bremerhaven-Charleston-Miami-Veracruz-Altamira-Houston-New Orleans-Le Havre
Four Asia – Middle East services:
MEX: Qingdao-Shanghai-Ningbo-Nansha-Singapore-Jebel Ali-Abu Dhabi-Dammam- Abu Dhabi Port Kelang-Shanghai
MEX2: Pusan-Lianyungang-Qingdao-Shanghai-Hong Kong –Shekou-Singapore-Jebel Ali-Dammam-Jubail-Abu Dhabi Port-Singapore-Nansha-Pusan
MEX4: Tianjin-Qingdao-Ningbo-Shekou-Singapore-Sokha-Jebel Ali- Hamad- Dammam-Bahrain-Singapore-Yantian-Tianjin
MEX5: Shanghai-Ningbo-Taipei-Shekou-Tanjung Pelepas-Port Kelang-Jebel Ali-Umm Qasr-Jebel Ali-Port Kelang-Hong Kong-Shanghai
Two Asia - Red Sea services:
RES1: Tianjin-Qingdao-Ningbo-Nansha-Shekou -Singapore-Jeddah-Sokhna-Aqaba-Jeddah-Port Kelang -Ningbo-Tianjin
RES2: Shanghai-Ningbo-Taipei-Xiamen-Shekou-Singapore--Djibouti-Jeddah-Sokhna-Aqaba-Djibouti-Singapore-Shanghai